The last bus trip



The first day we drove and drove until we got to Oregon. It was not oo much fun. When we got to Oregon we started looking for place to stay. Our usual campground at Champoeg was full. The other options were rv park right nect to the freeway and a motel. We chose a motel.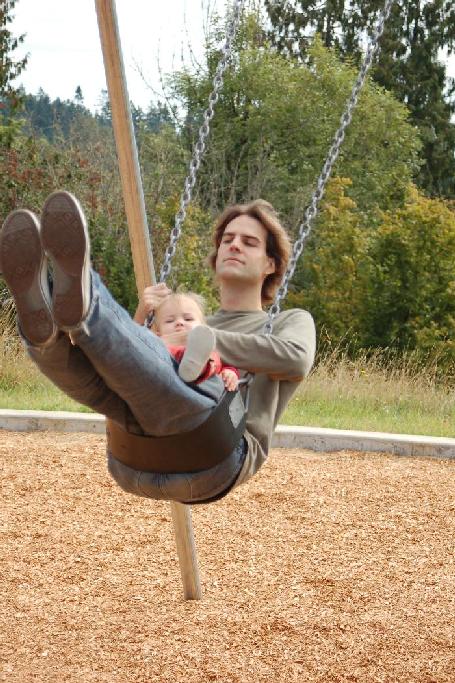 Next morning we packed our stuff up and went to a park to have some breakfast. We ended up staying for a while because there was a really nice playground.
Swinging in Wilsonville, Oregon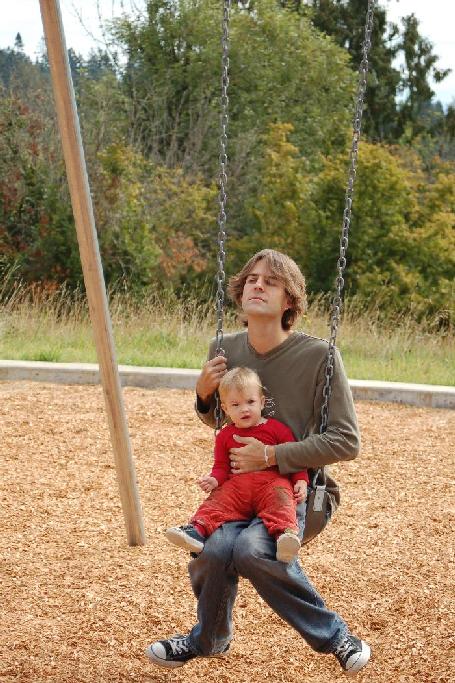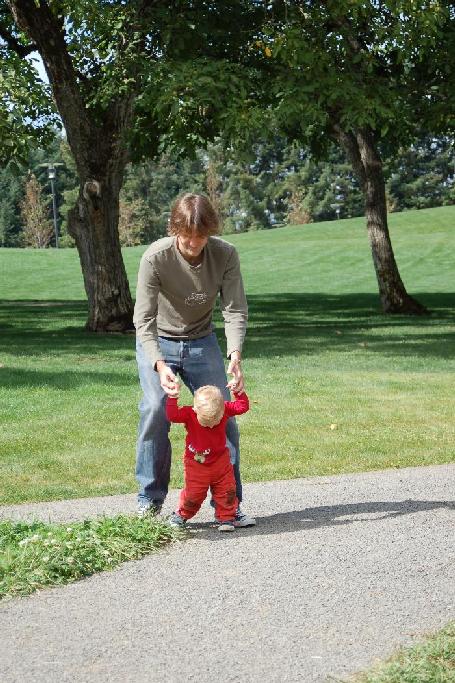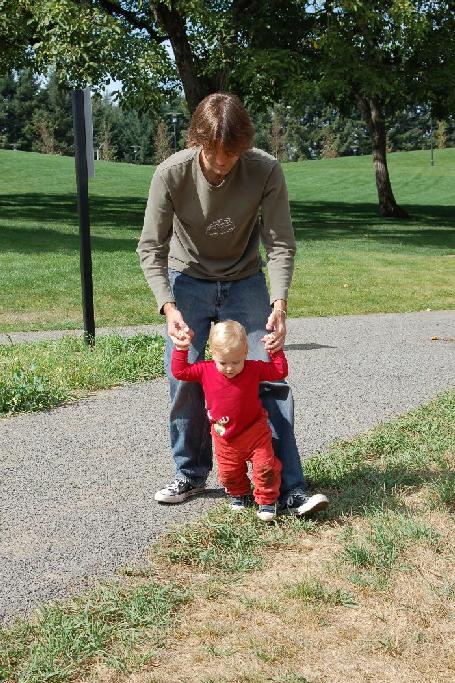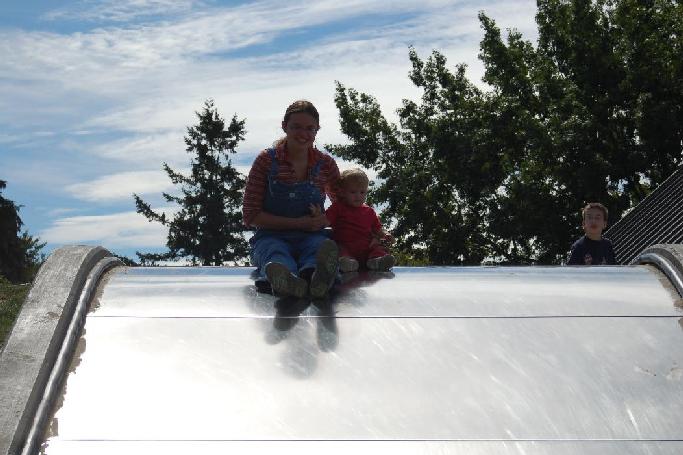 There was a giant slide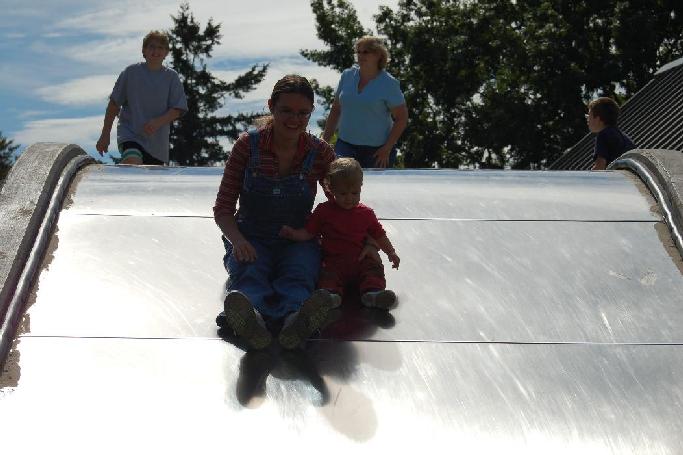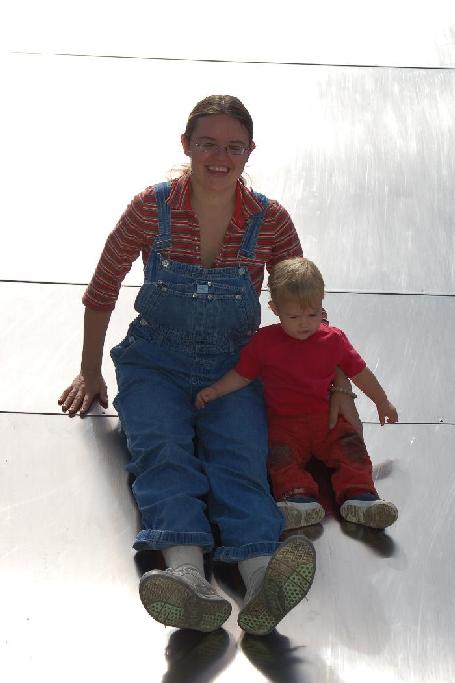 At one point we had to leave though. At one gas station we bought some ice and Liisa loved having acube of it in a mug and playing with it.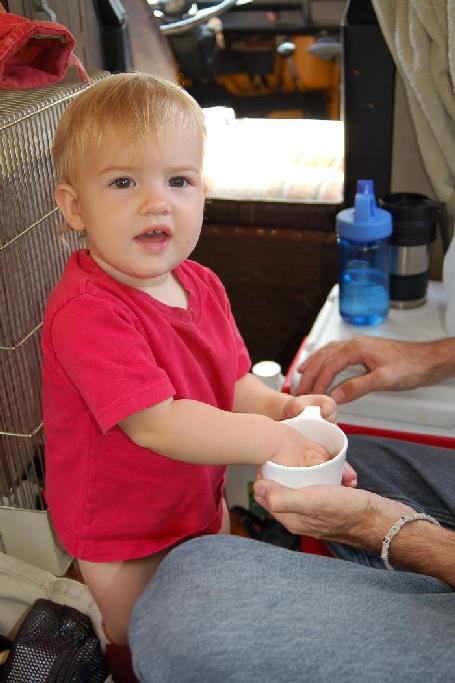 We drove down to the coast and unpacked for the night.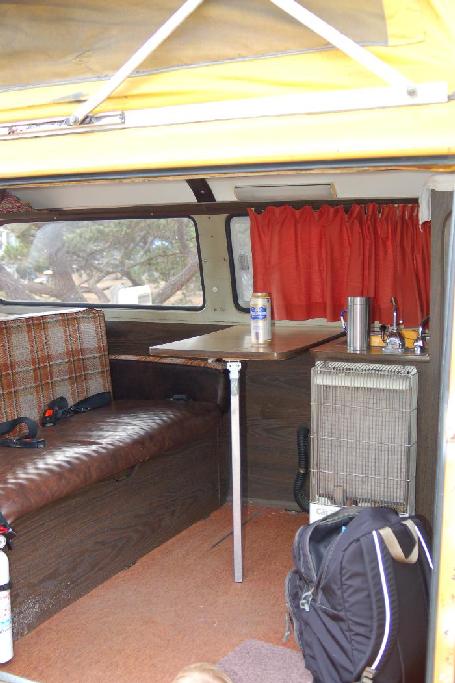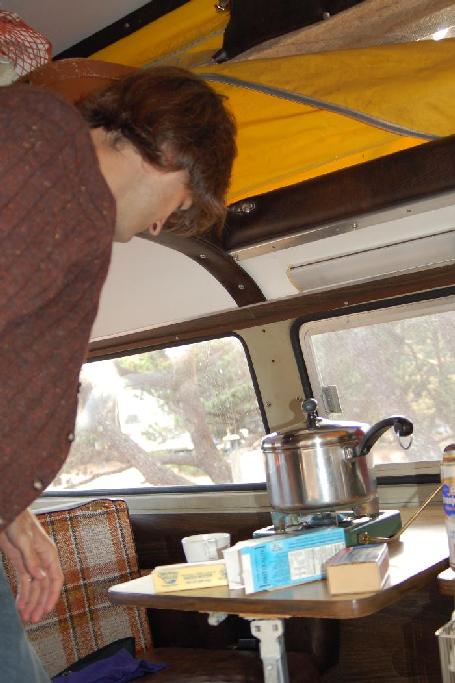 David cooked some dinner while I played with Liisa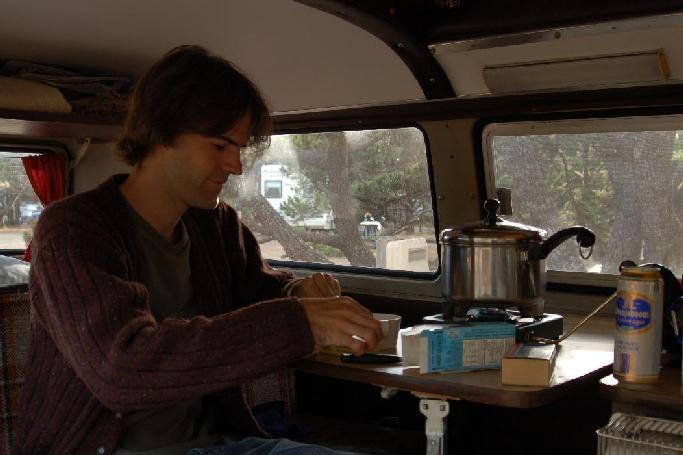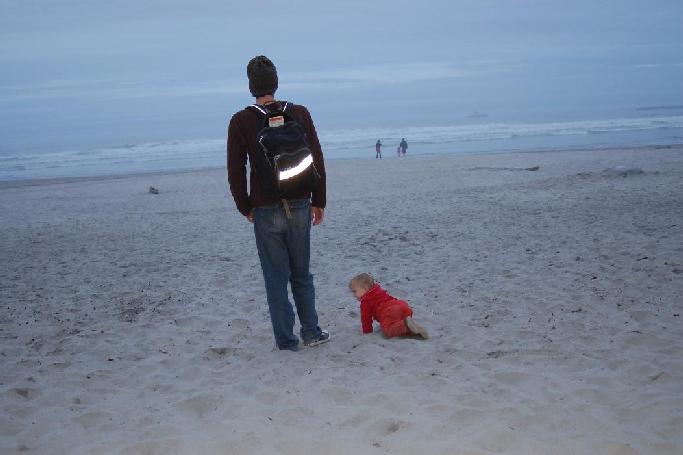 After dinner we went down to the beach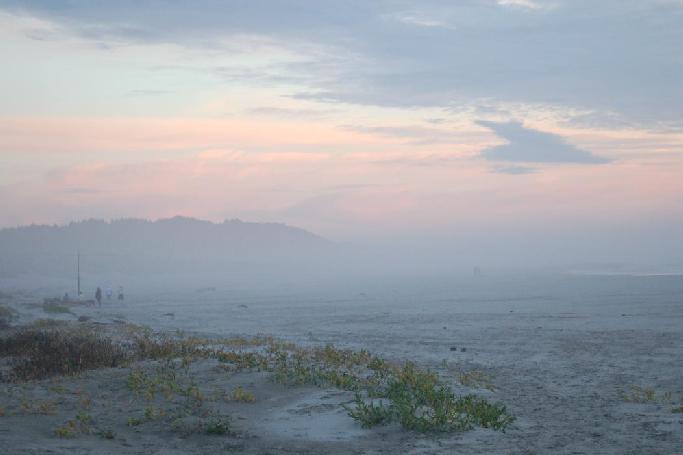 It was foggy (is the coast ever clear there?) and the sun was setting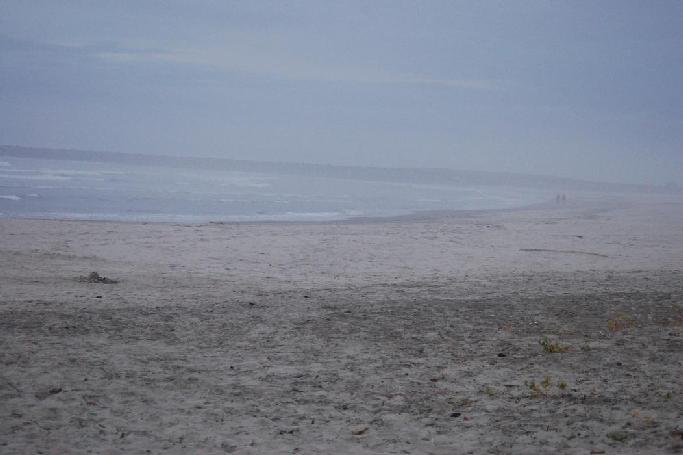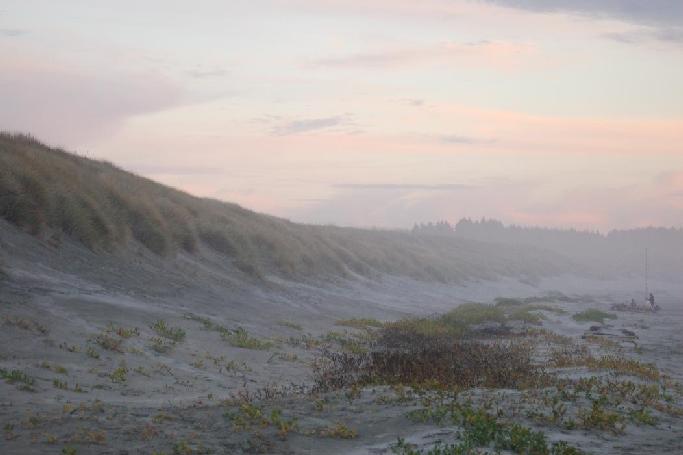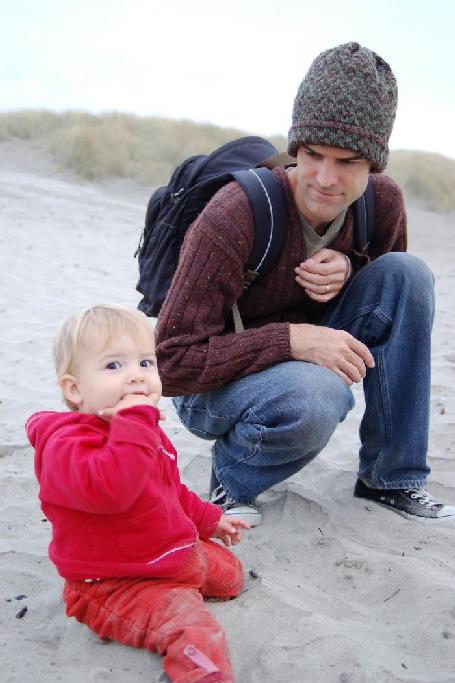 Liisa loved the sand (and no, she is not eating it on this picture, she was beyond her sand-eating days already)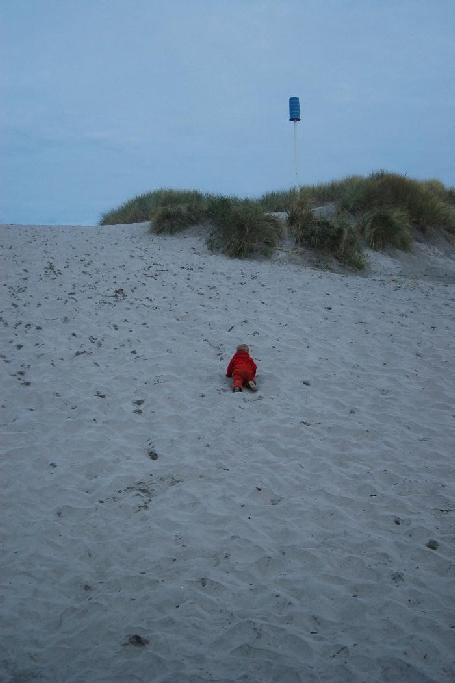 The light ws disappearing fast so we headed back to the campground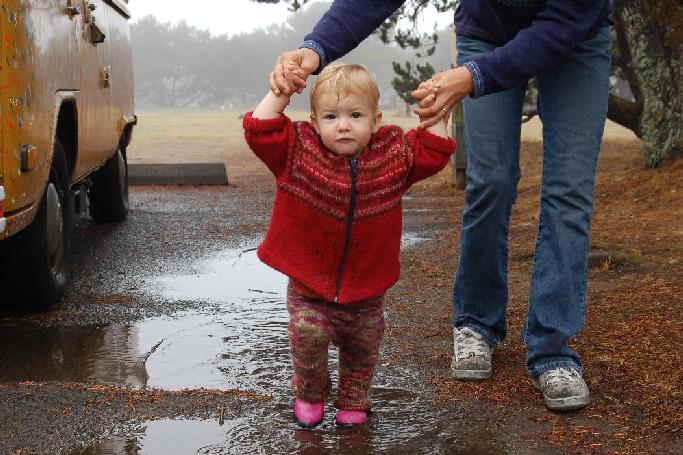 That night it rained so Liisa could try on her new rain boots first thing in the morning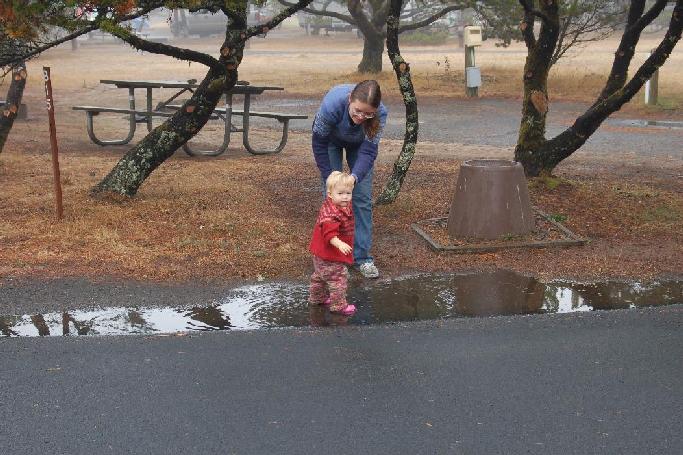 it was a lot of fun to stomp in the puddles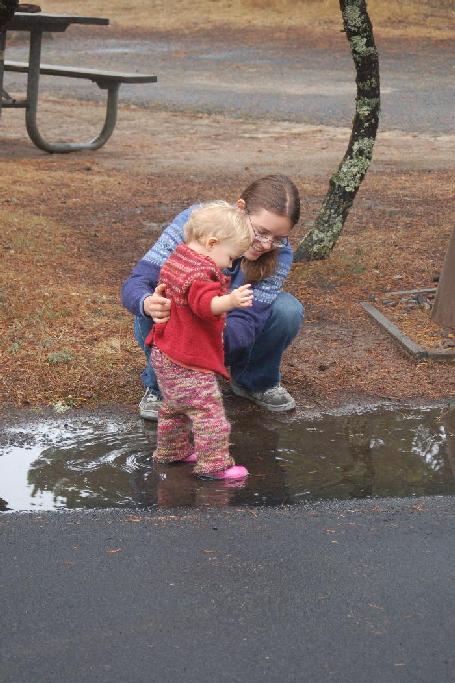 I tried to convince her that we don´t touch the water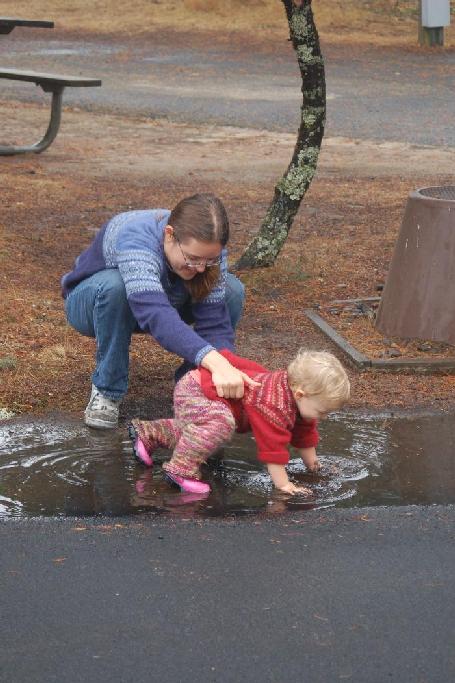 but she didn´t agree..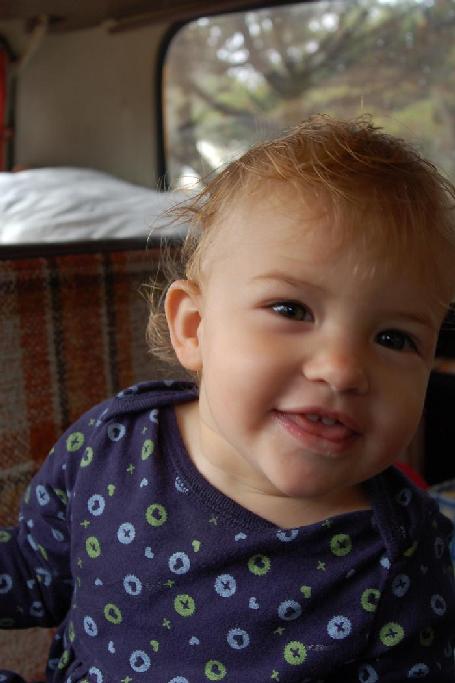 But it wasn´t too bad, because we had to go and shower anyway. After washing we packed the stuff up and went off onto the road again.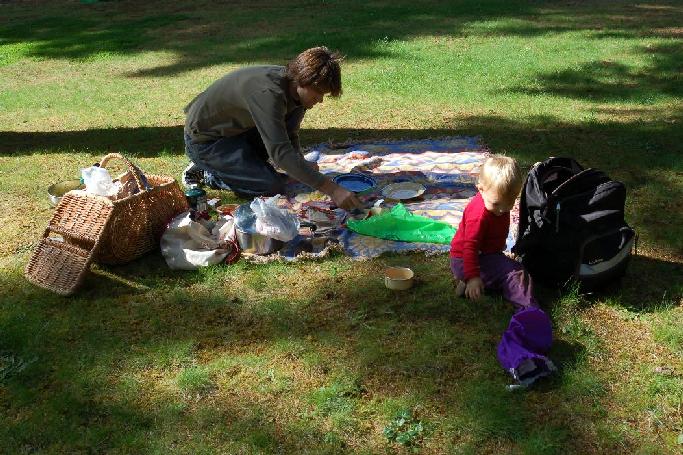 After driving for a while we stopped for lunch in a small state park. David made scrambled eggs, Liisa crawled around and I rested.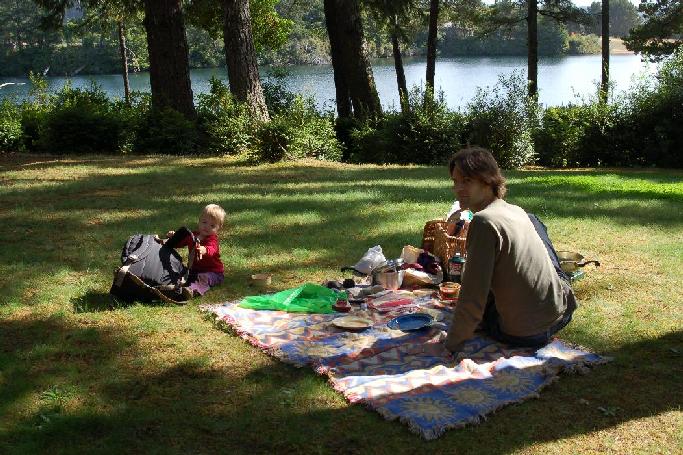 It was warm and sunny and the lake was far enough that Liisa didn´t have to try and run for it constantly. After some resting we were off to the road again and soon stopped for the night at another campground by the ocean.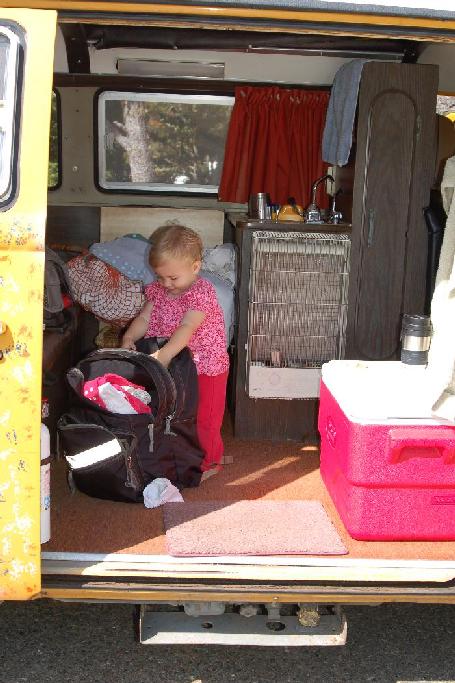 In the morning Liisa helped us pack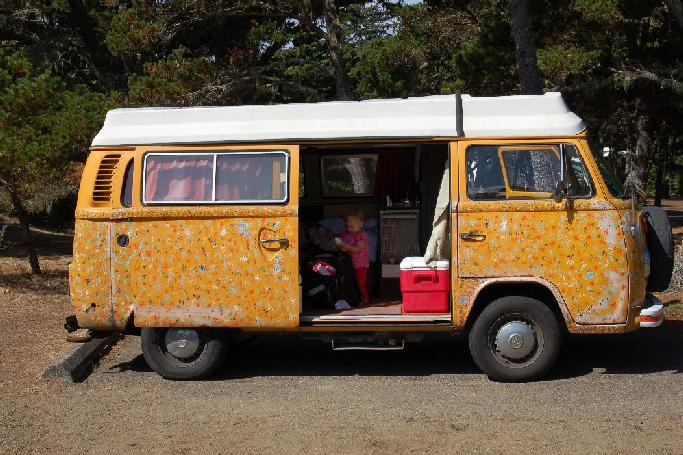 It was a nice and warm day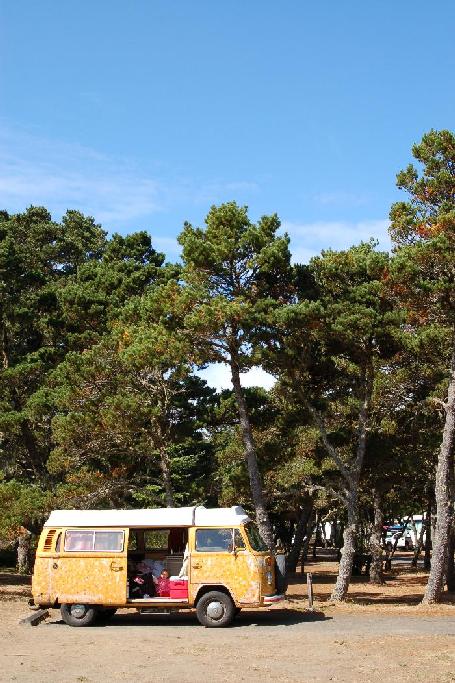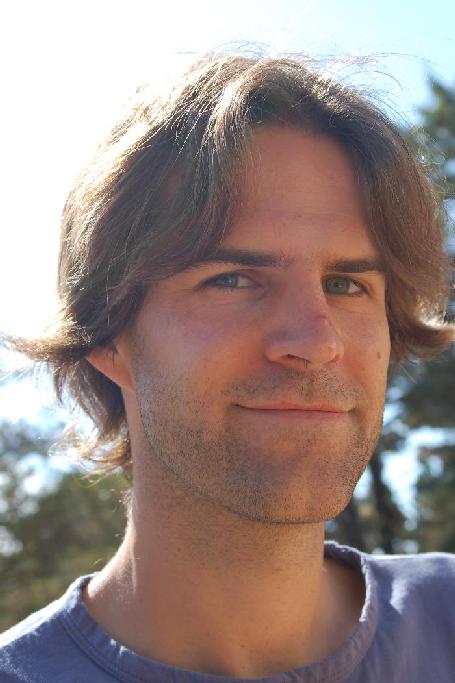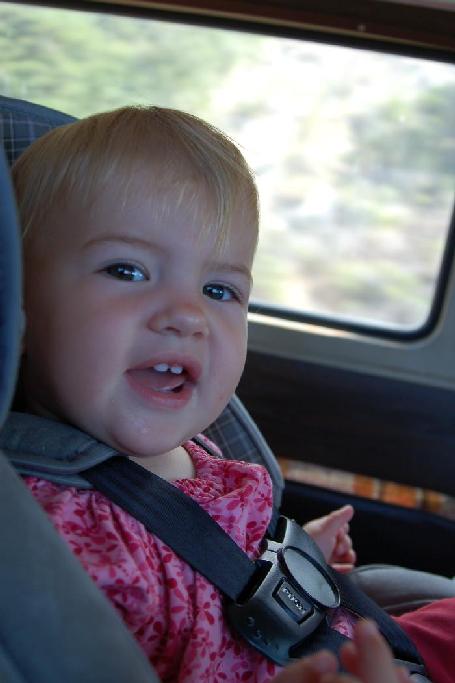 But California was calling us and pretty soon we buckled Liisa in and drove on.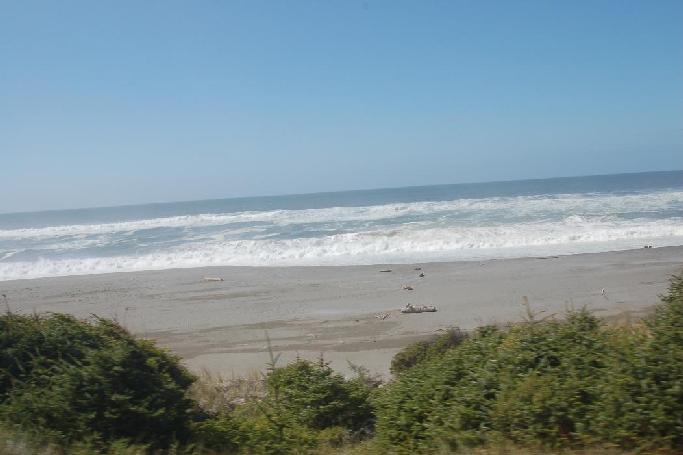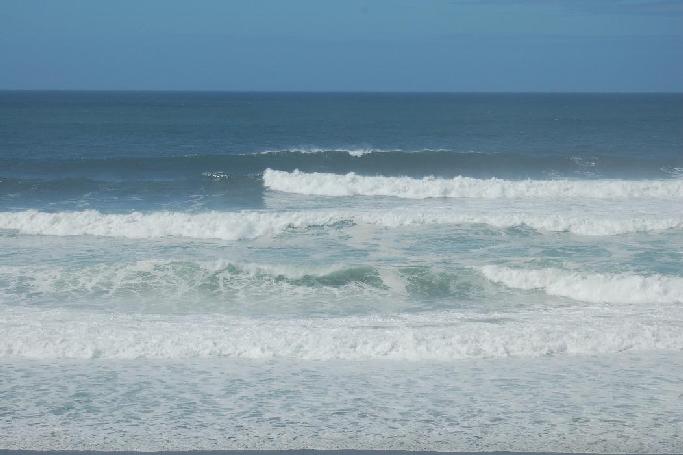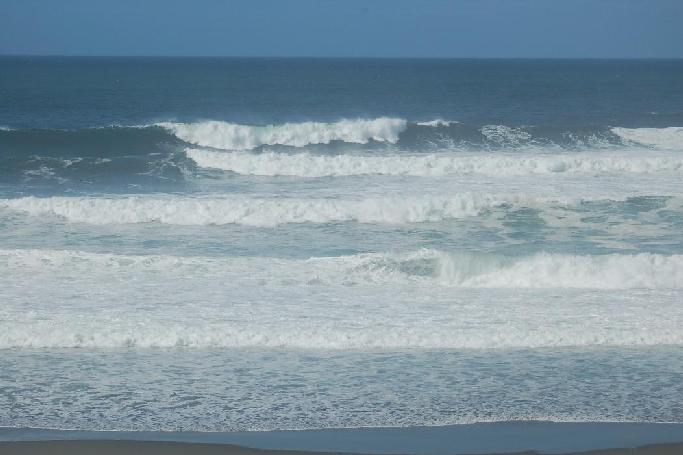 The ocean actually looked blue as opposed to the usual gray of Oregon. Everything was really nice until suddenly Liisa became sick and threw up. After a clean up and a change of clothes we drove to the nearest town and stopped for lunch (if you can call some jo-jos and breaded chicken breast from the deli counter a lunch, that is. I felt so crummy afterwards (that´s what mostly organic whole food diet does to you) that I had to drink tons of water and eat some fruit to feel like a person again).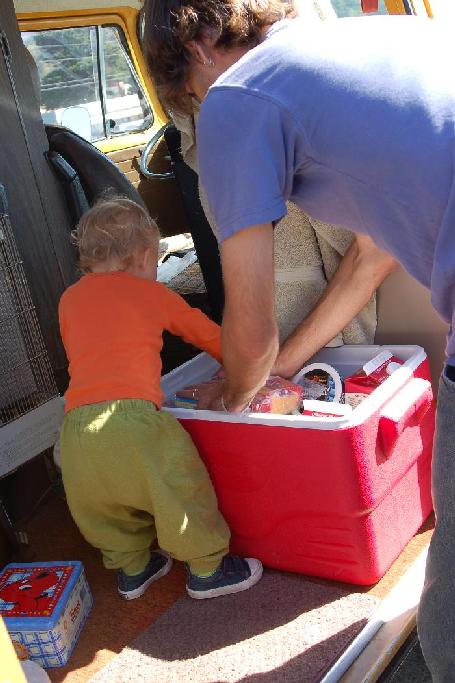 Liisa helped David pack the extra provisions. We drove on into California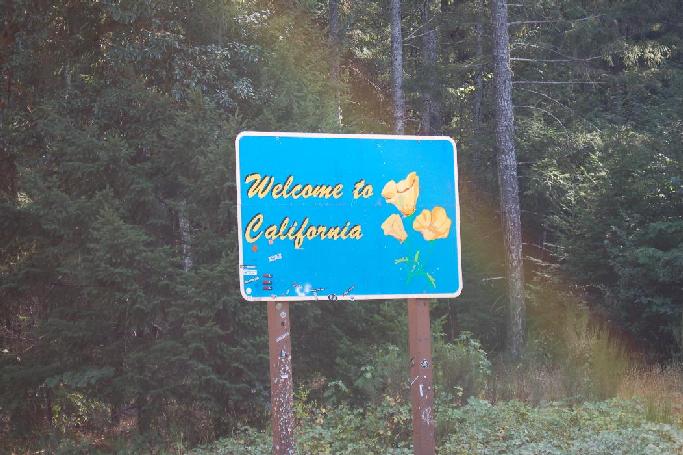 and had instantly some bad luck finding accommodation. The youth hostel we tried was full, the campground we tried next was also full. The closest campground was 30 miles away and Liisa was done with being in the car. While we contemplated the situation at the full campground two men from Lake Chelan area offered the use of their site as an extra vehicle. Thank you! They were gone by the time we got up in the morning and we never had a chance to properly say thank you.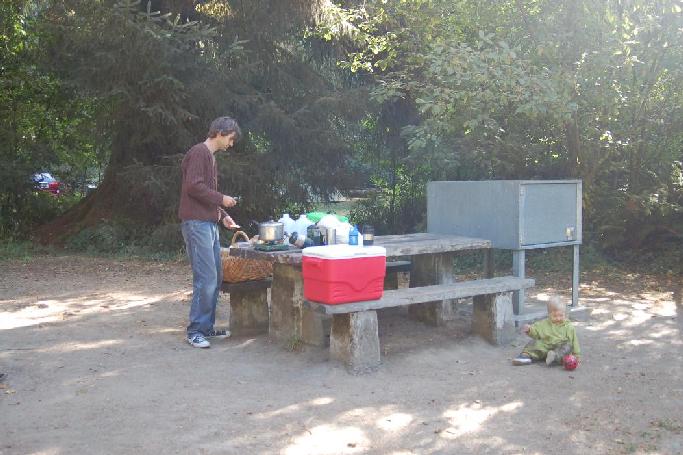 David made some coffee and we ate.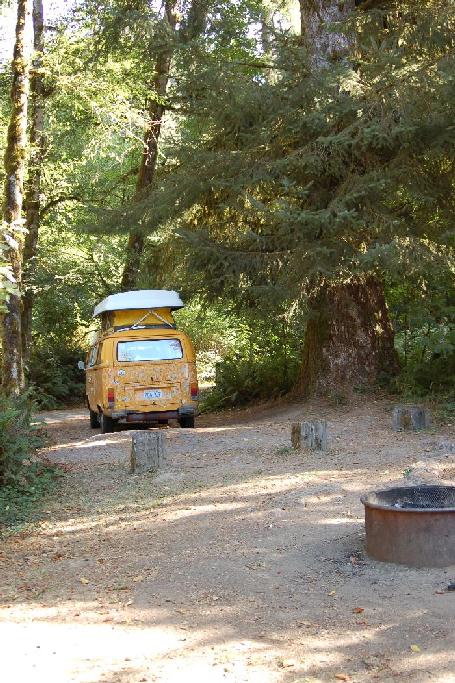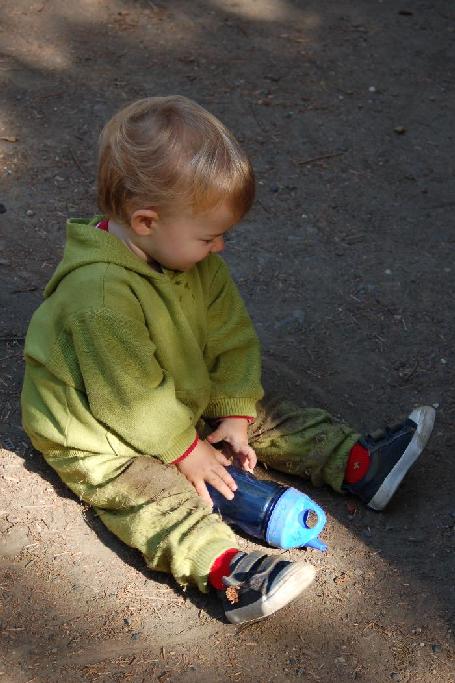 Liisa crawled in the dirt for a while and then decided to have a snack as well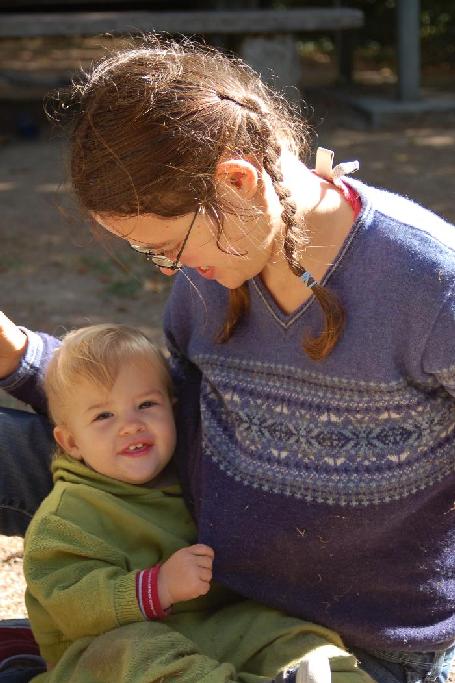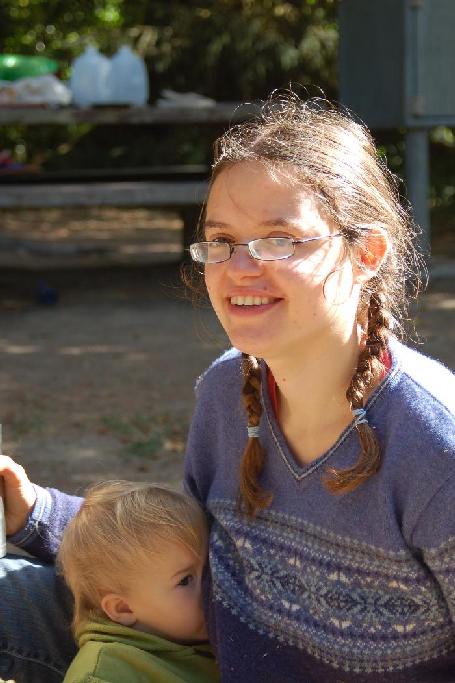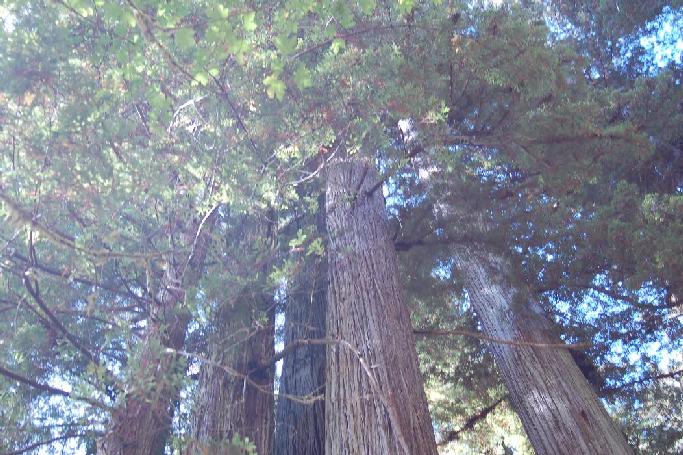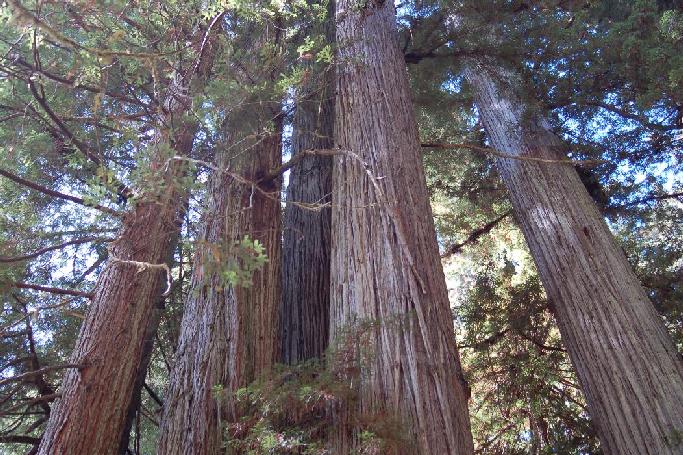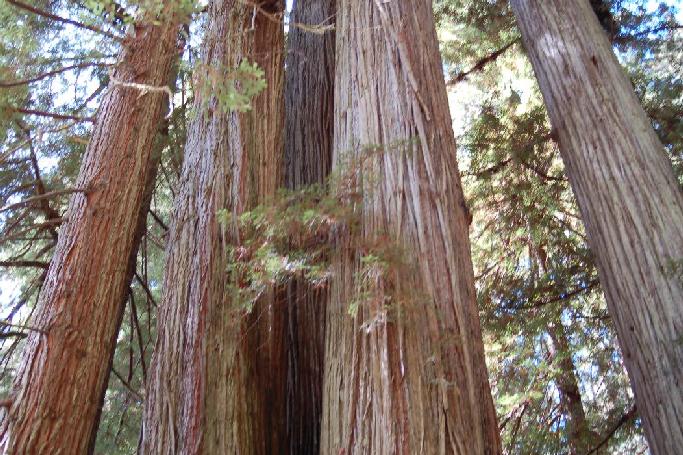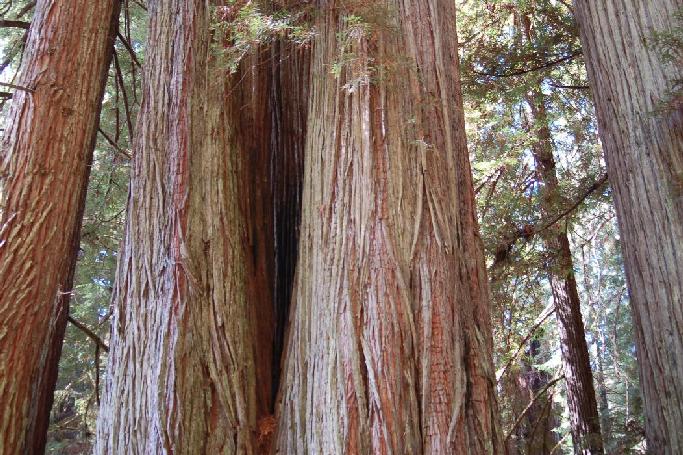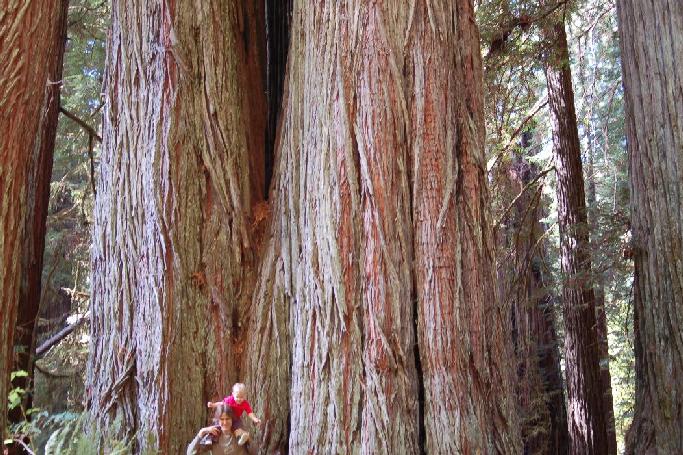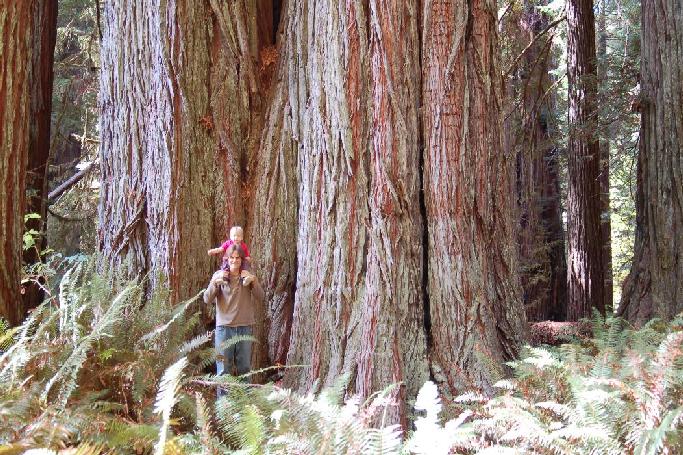 And then we packed up and went to look at some really big trees. They were so big that it was impossible to take a picture of the whole tree, even lying down didn´t do it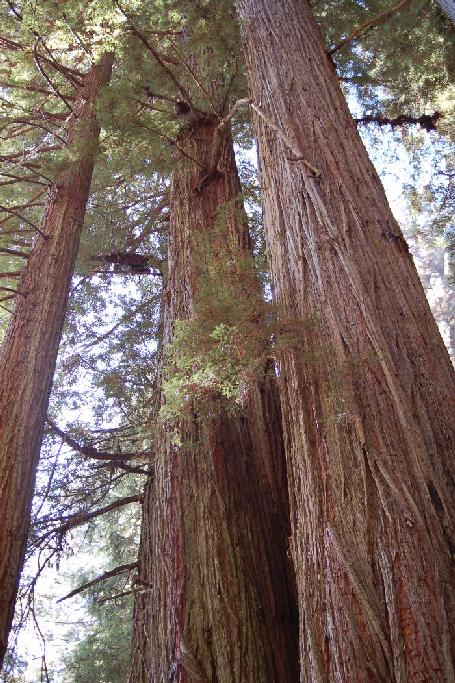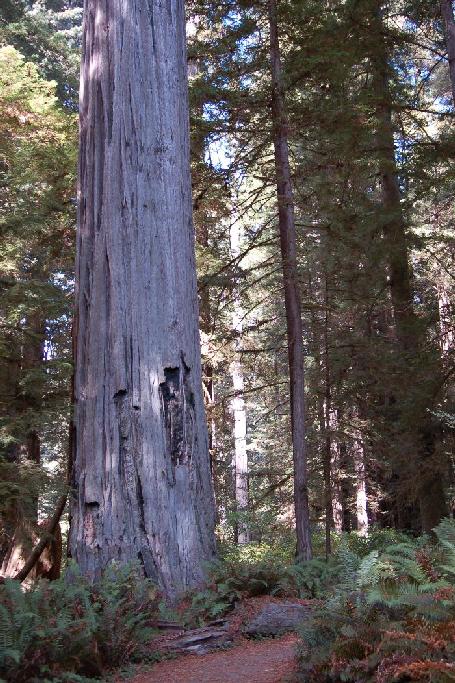 This one doesn´t look so big, right?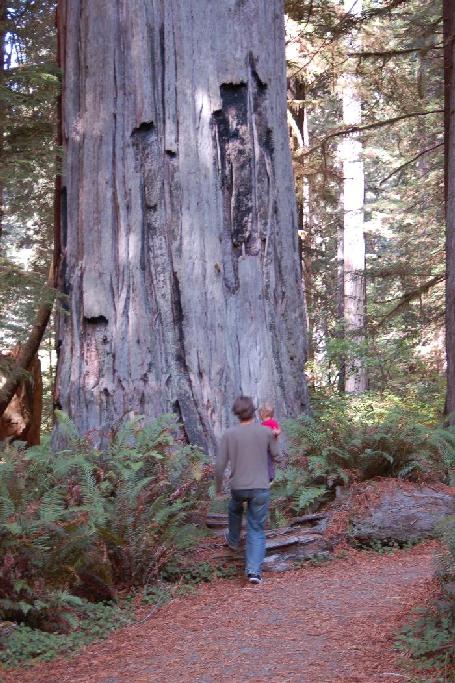 not too bad yet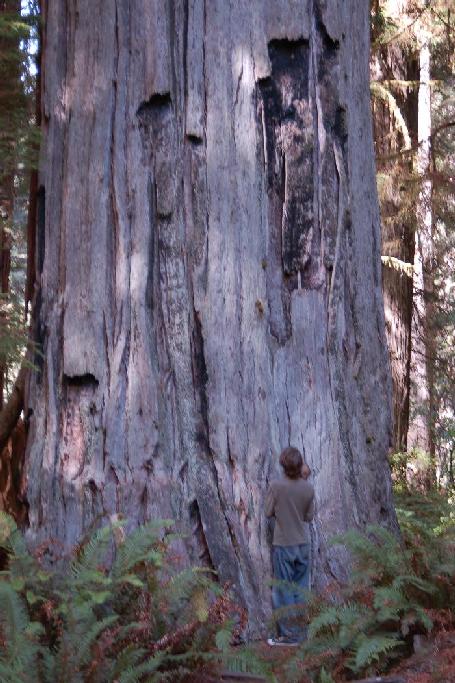 up close it is still a giant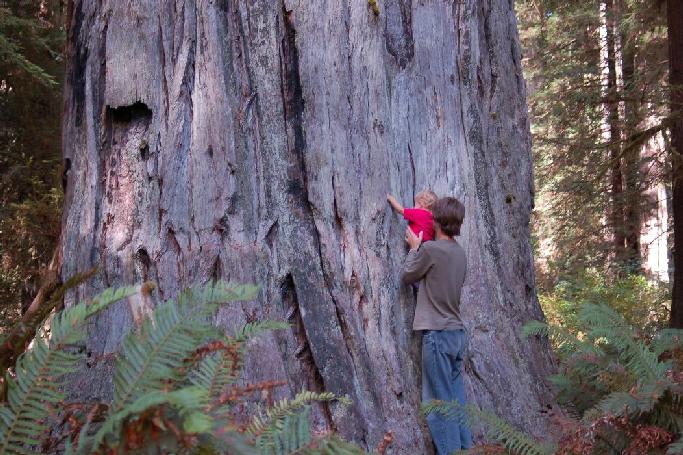 Liisa had to repeat saying ¨puu, puu¨ [tree, tree]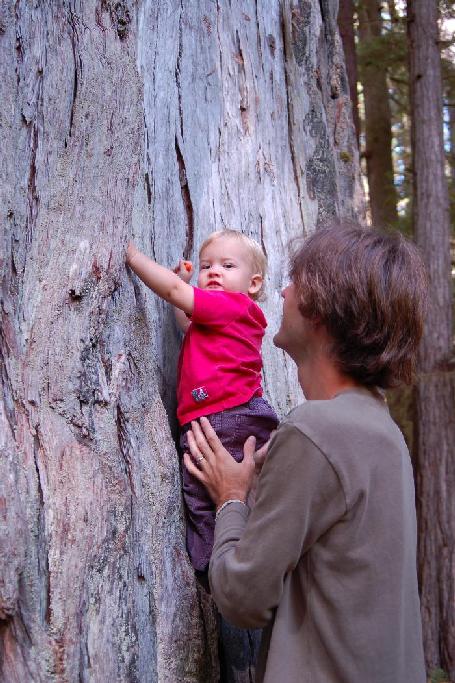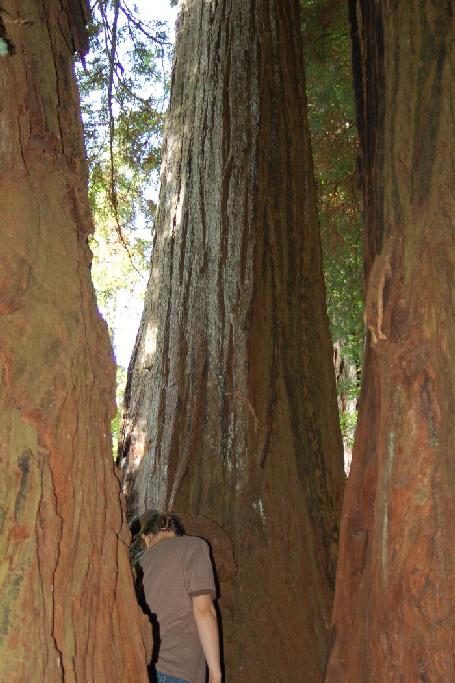 This tree I am exploring looks like three trees but is really one. I climbed a little ways up to the poin where it branches.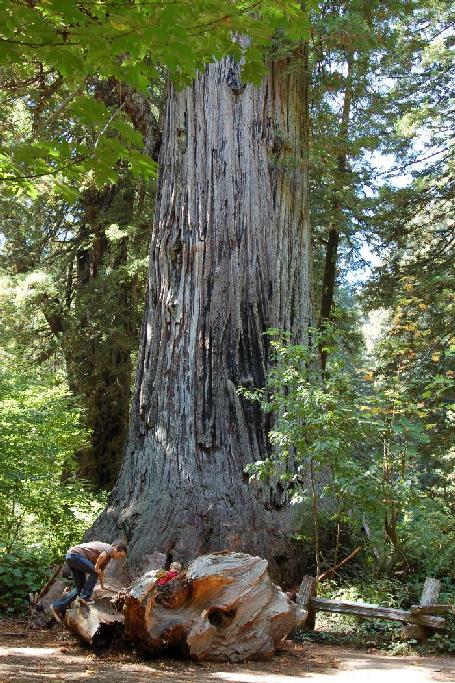 This here is called the ¨Big Tree¨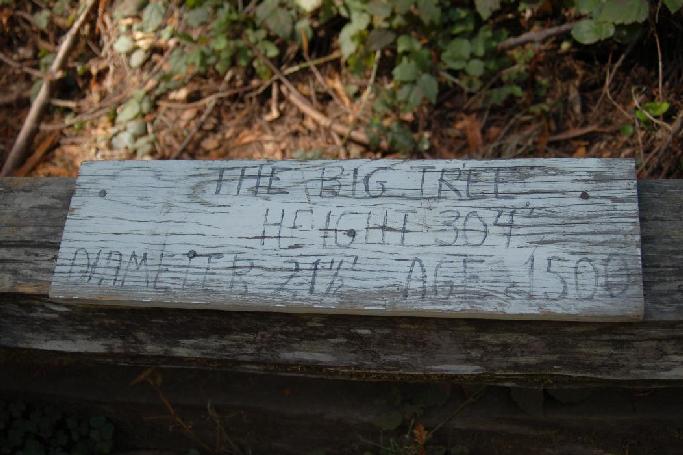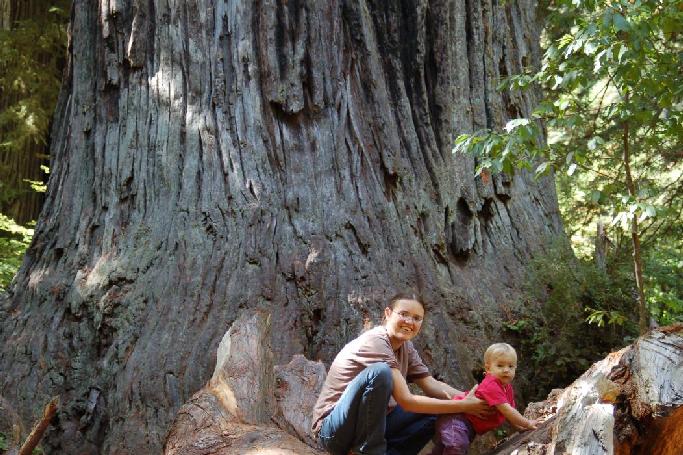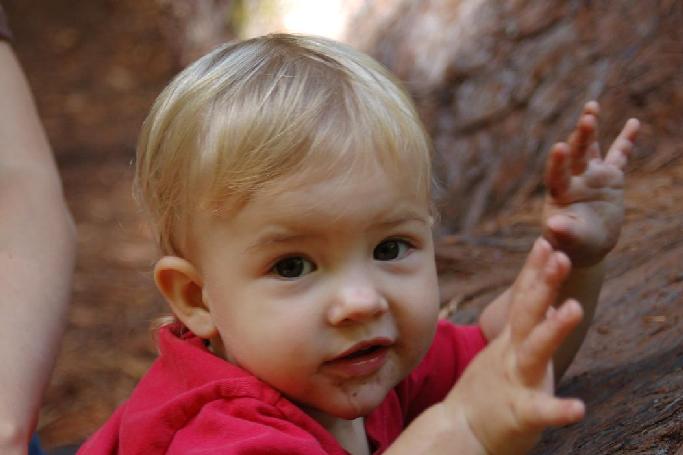 Liisa definately enjoyed the whole climbing experience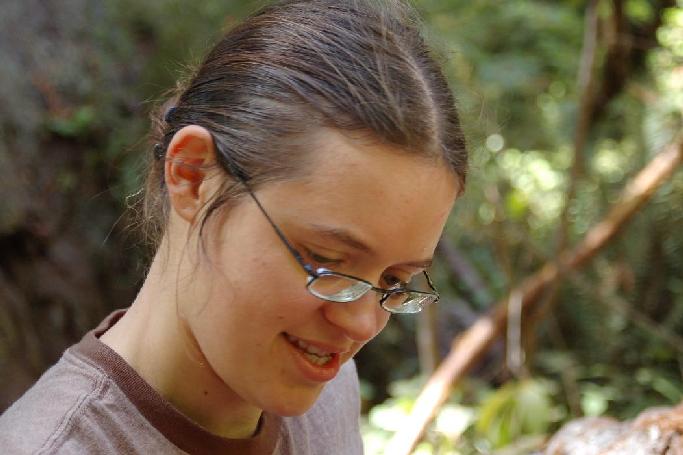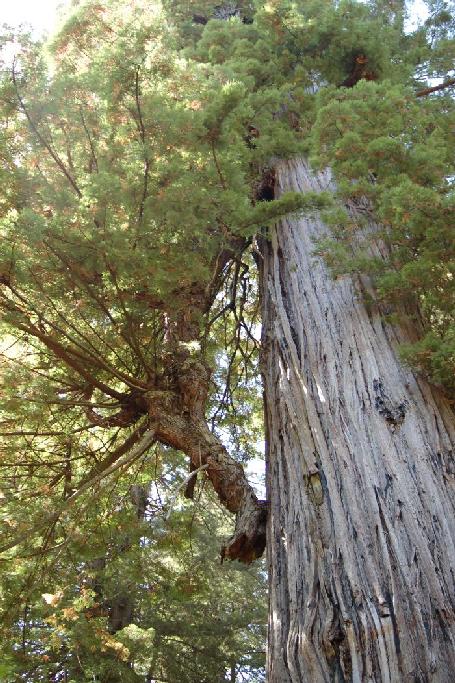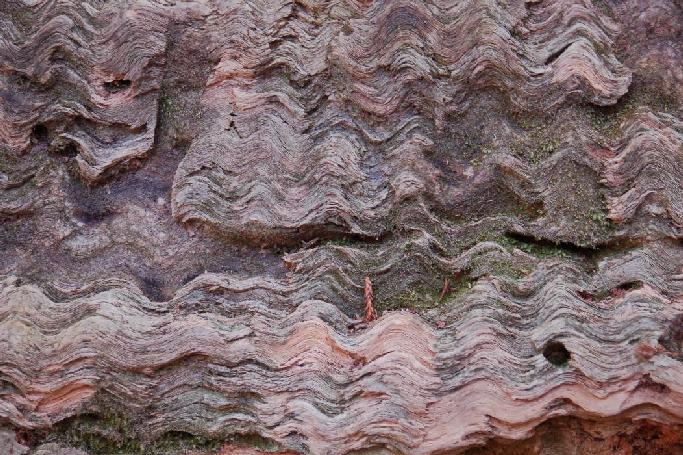 This is what redwood bark looks like. I had really hoped to see seqoias but it turned out that you can only see redwoods on the coast. The giant seqoias grow only in the Sierra Nevada mountains, quite a distance from where we were..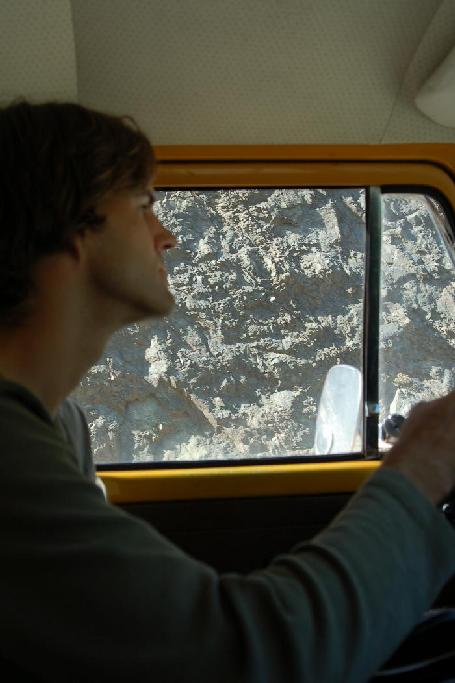 We turned the weels back towards Washington. When Liisa fell asleep I sat to the front of the bus (usually I ride in the back with her).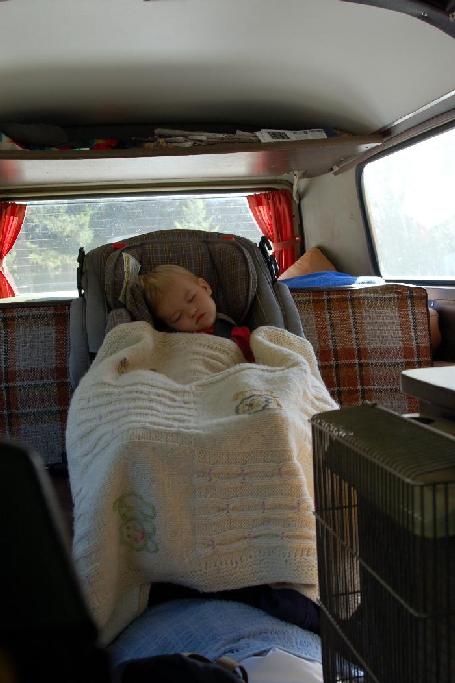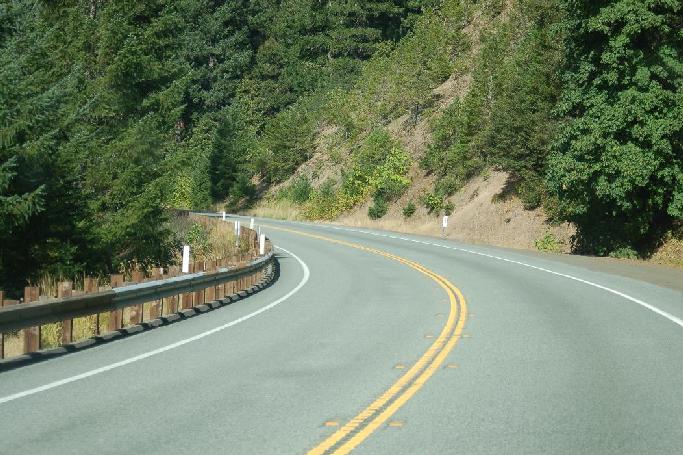 On the way back we drove through the inland so we didn´t see any more of the ocean. Had I known that I would have touched it before, but it was too late now.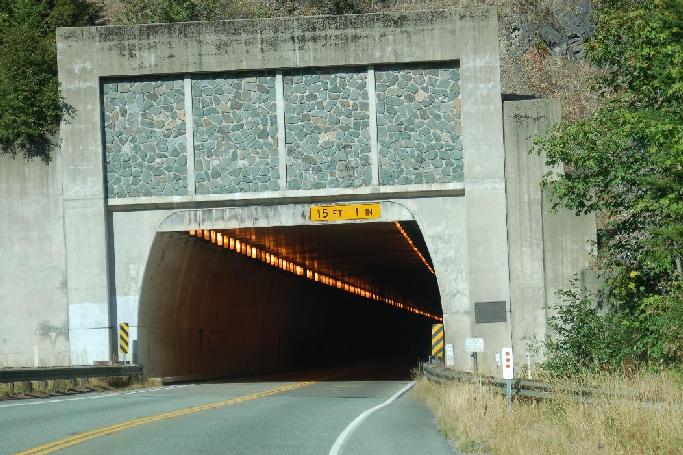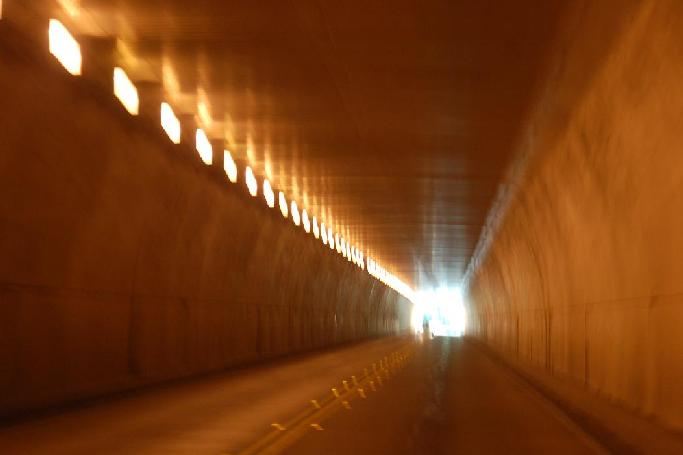 Before long we were back in Oregon. That night we stayed at the dingiest motel ever. We had planned to camp but Liisa threw up again (I think it came from food) and we had to wash the carseat cover.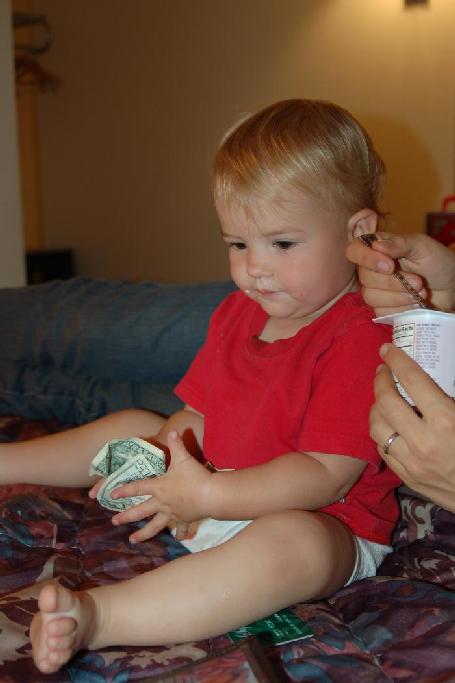 Liisa discovered money.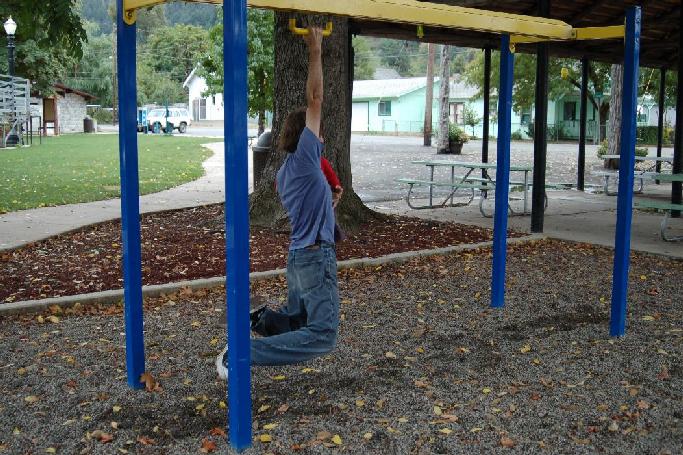 Next morning we drove off pretty early for us. We soon stopped for a proper breakfast and after that ended up playing on the city playground for quite a while.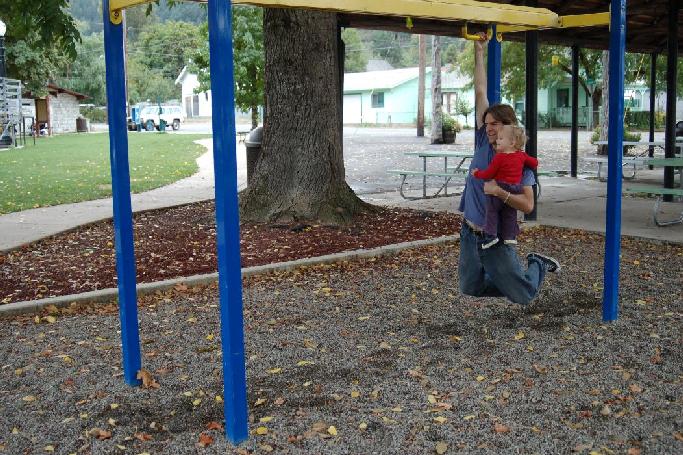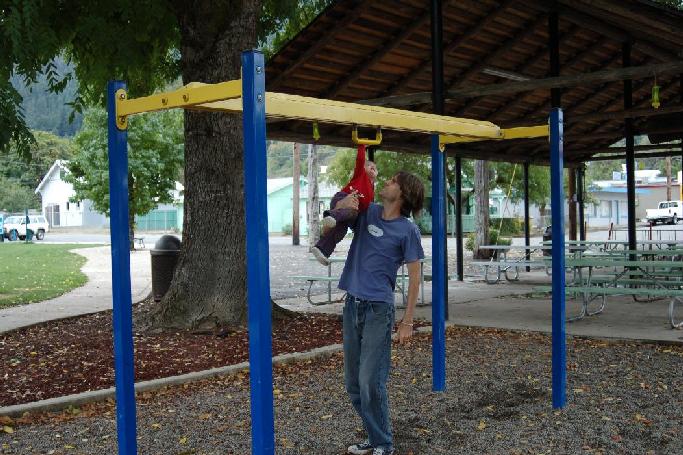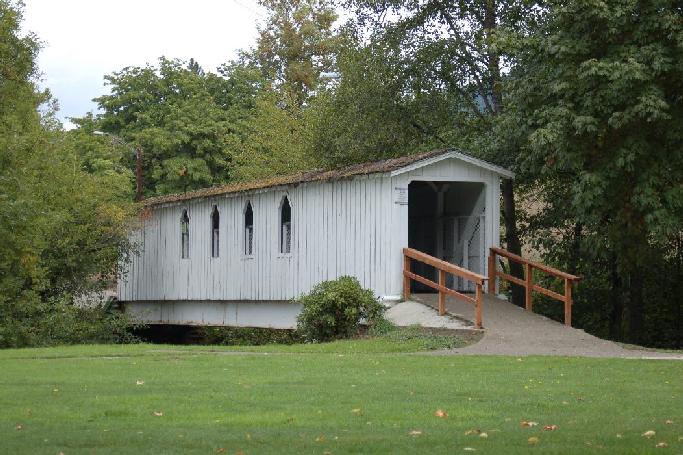 Next to the playground was a covered bridge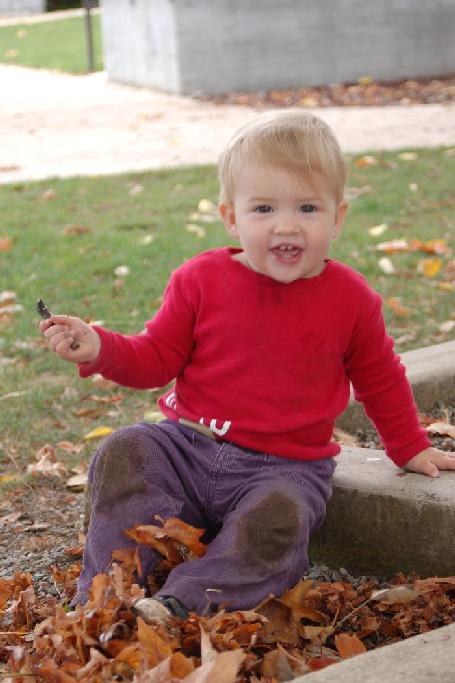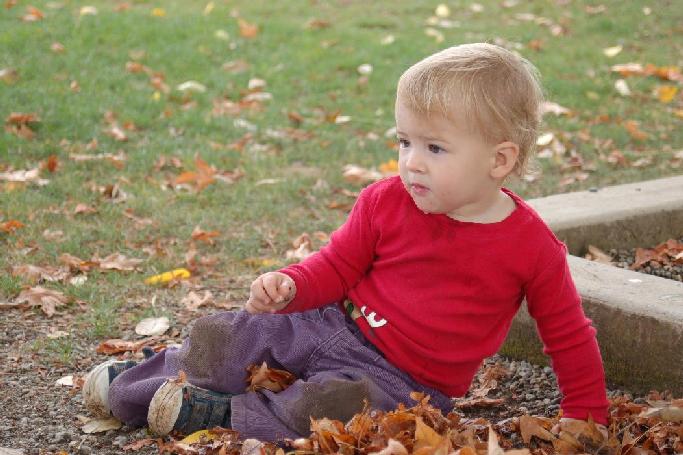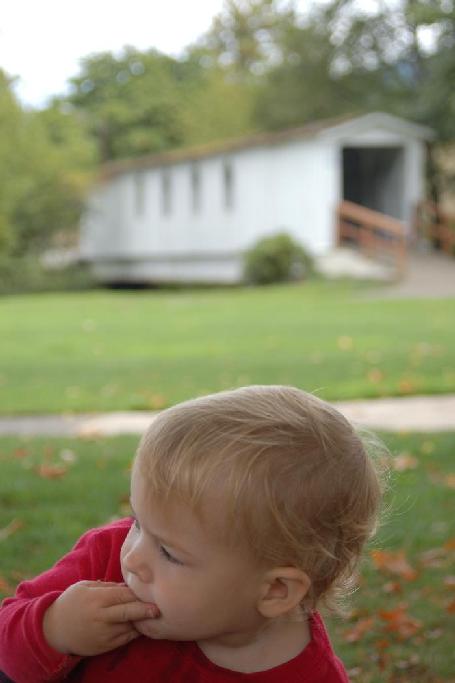 After a semilong drive and a good night sleep we drove on and stopped for lunch in the same town we did on the second day. Liisa was happy to visit the Wilsonville park again.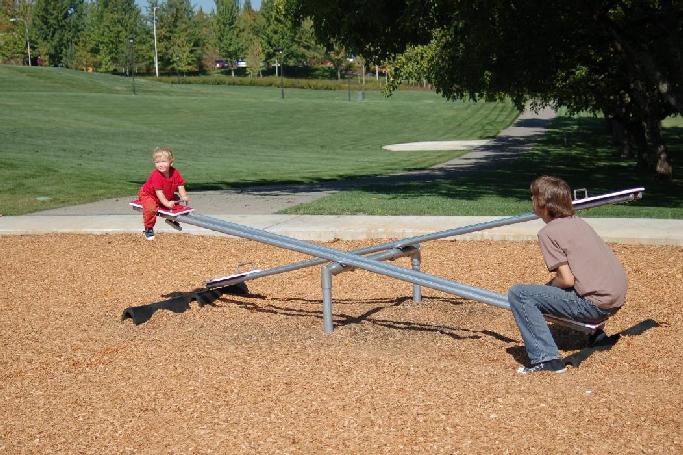 This time we tried the see-saw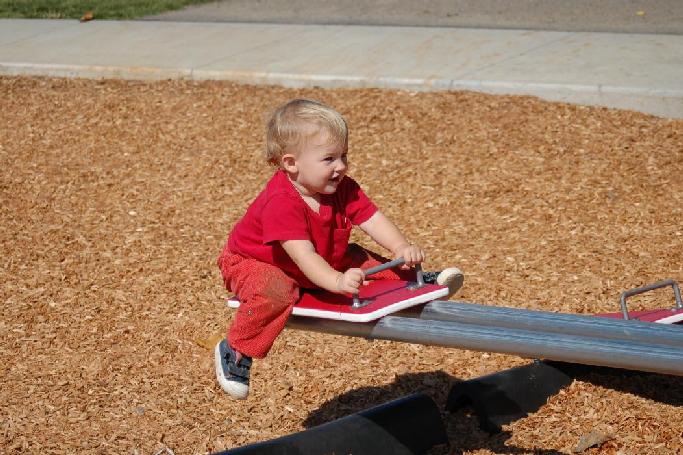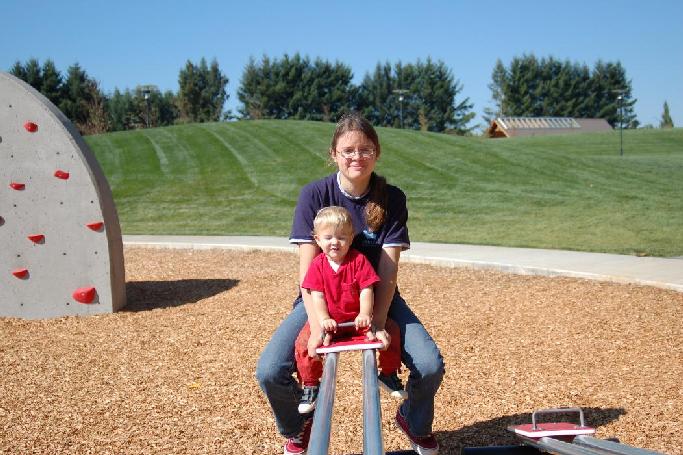 In the end even I had to join :)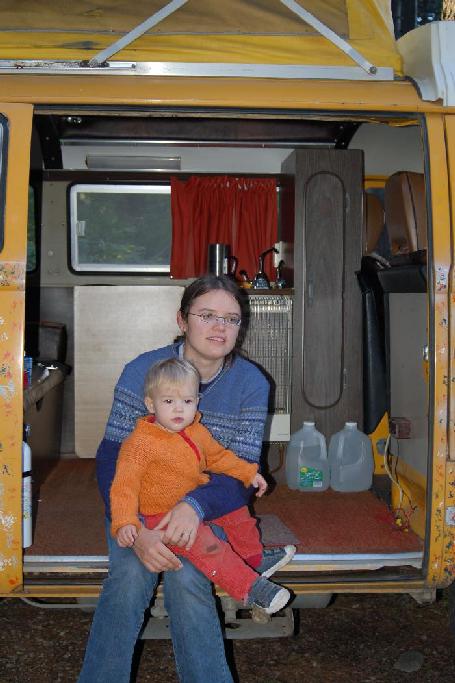 That night we stopped in a state park in Washington. It was our best night of the trip. And it was even better that we got home one day early and could rest :)