July 2008
Liisa turns 3

We had been reading a book of a bear's birthday (Happy Birthday, Jesse Bear by Nancy Carlstrom) and Liisa decided that her birthday was going to be just like the one in the book.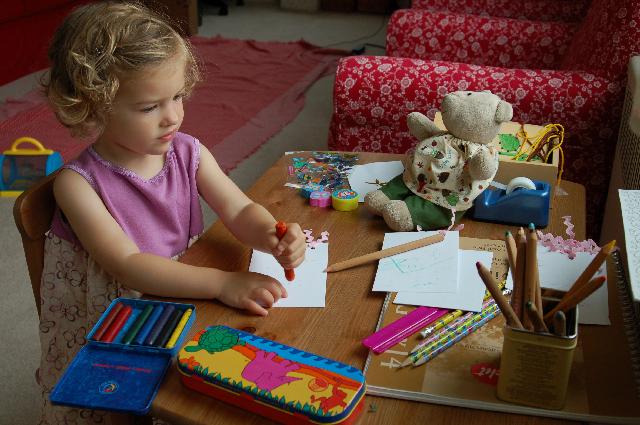 She drew the birthday invitations herself and then stuffed the envelopes and added stamps. Later she was the one to drop the envelopes into the mailbox.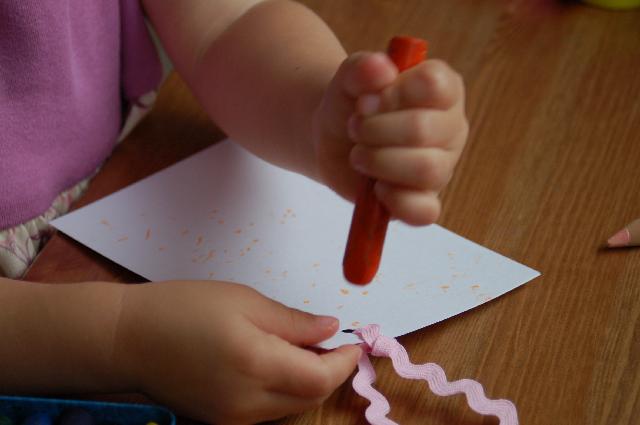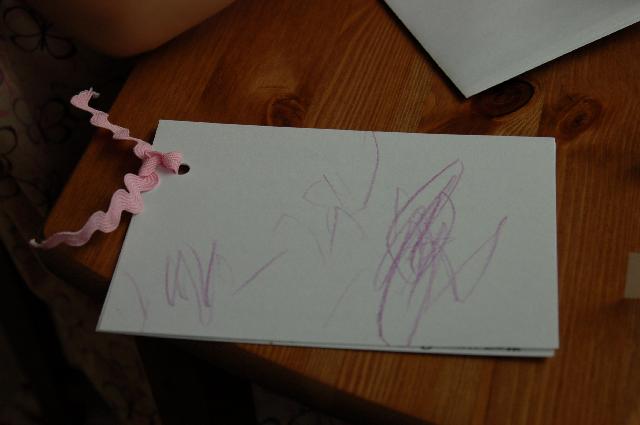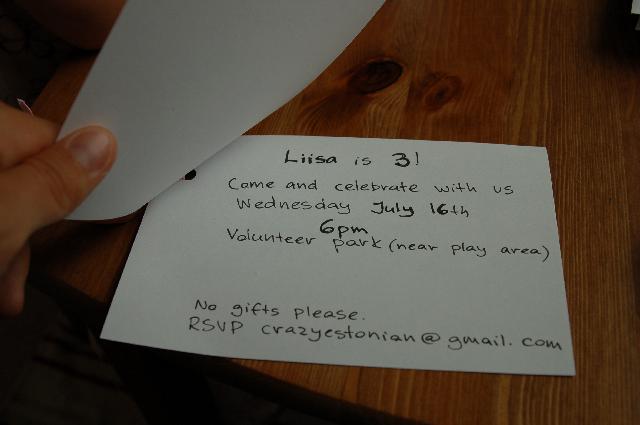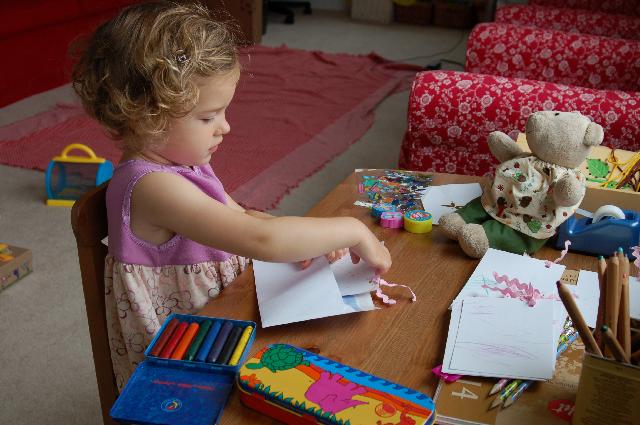 On the birthday morning she wore clothes that a sweet mama from Sewingmama's board made her (I sewed birthday clothes for a little boy). Liisa's shirt has a branch with butterfly eggs, caterpillar, crysalis and a butterfly. She loves it! David had procrastinated and not finished a big dollhouse so he got Liisa a set of Duplo legos instead. I made a set of dollhouse dolls that didn't make the picture.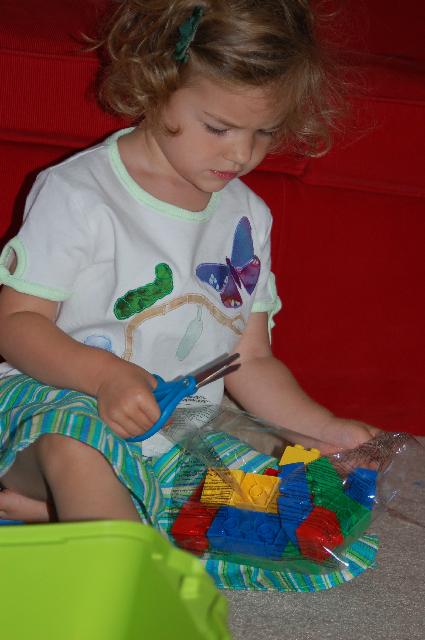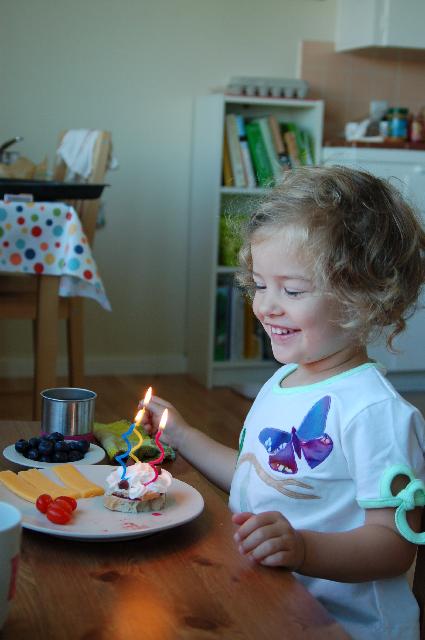 I had made a cake for the party the previous day but Liisa really wanted cake for breakfast. So I quickly made one up. This is white bread with some jam, berries and whipped cream. And candles of course.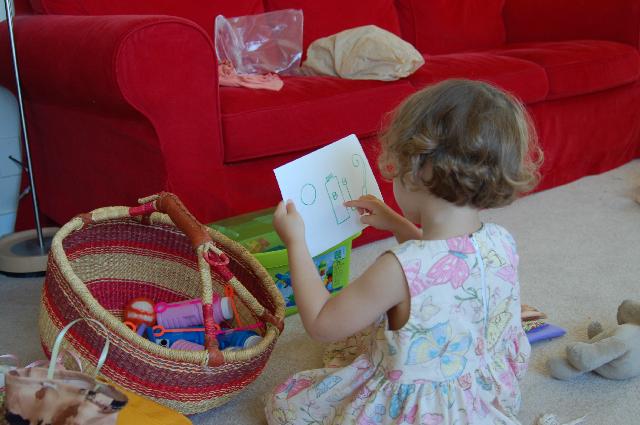 A few hours later we put on her birthday dress (I made it) and she filled the party favor bags. I made a little instruction card for her. It reads: one ball, one bottle of bubbles, one bubble wand and one serpentine in each bag.




We gathered up everything neccessary for the party and left for the park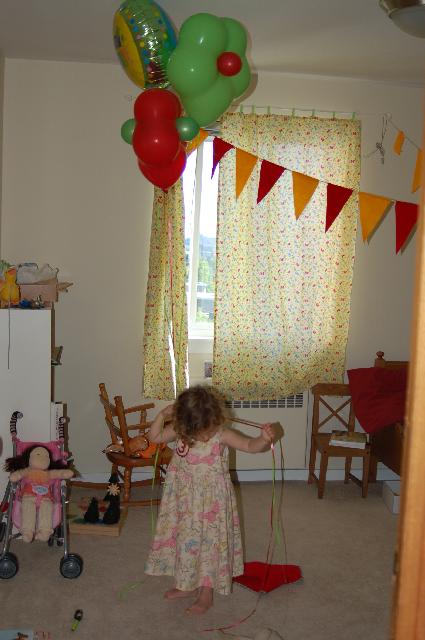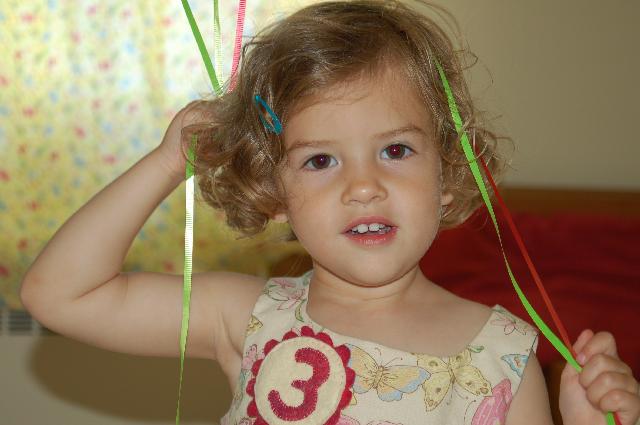 In the park we set up the pennants and in the same time Liisa accidentally let go of the balloons. She thought they just got lost and didn't probably even notice them going in the air. David went back home to bring the cooler with extra food (you can only bring so much stuff in one go) and get new balloons. Pretty soon the first guests arrived.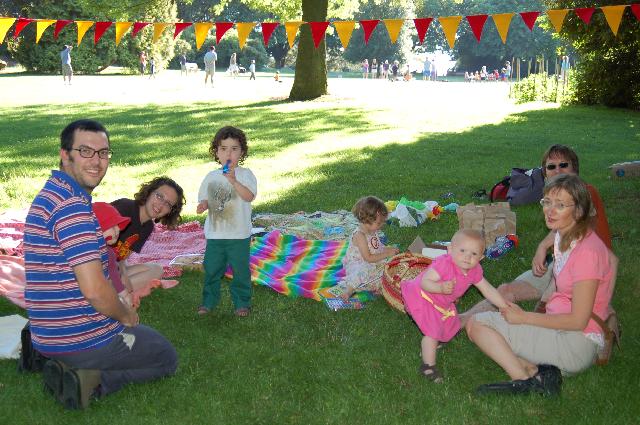 On the left Alex, baby Prospero, Anna and Iris. On the right Eva (from Hungary, I met her in the same time as Anna in prenatal yoga class), her husband Glenn and baby Isabella (not on the picture Owen). Liisa is busy opening a present. Some fabulous art supplies! Thank you Eva!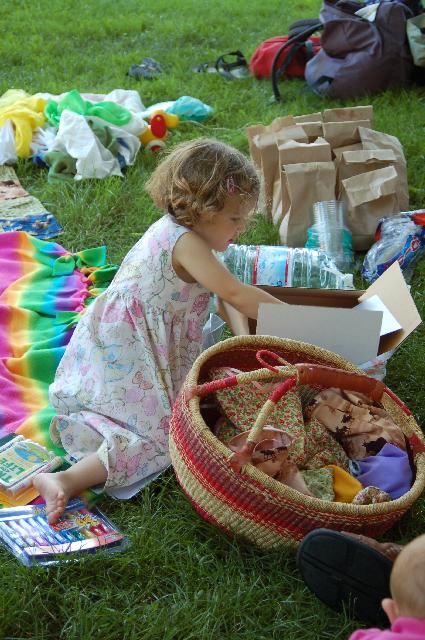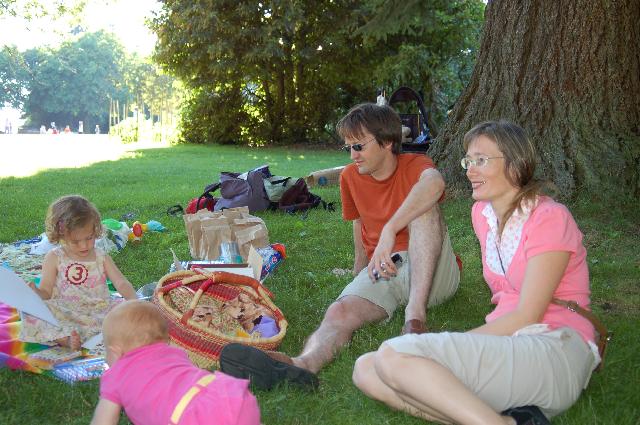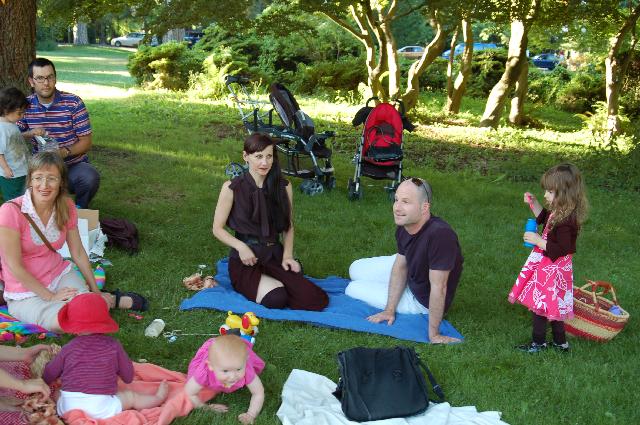 More gueasts: on the blue blanket Renate (from Chech, we are playground friends), Shawn and Lexie (blowing bubbles). Thank you for a giant bubble ring and Kitty purse and sunprint paper!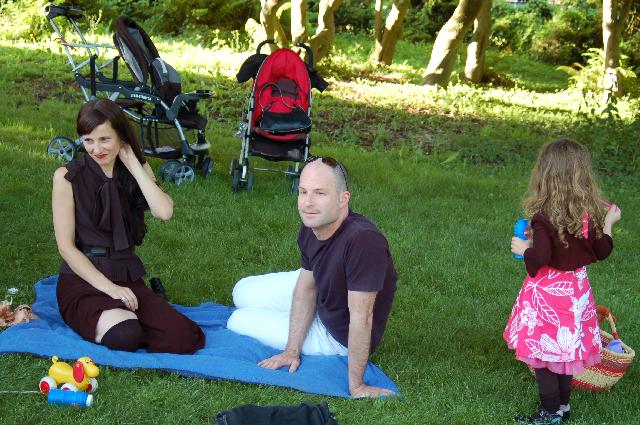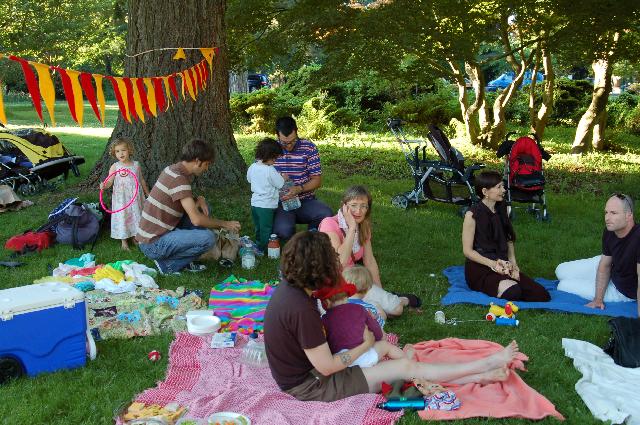 And more guests and presents. On the left Mina and grandpa. Liisa opening a package of dollhouse bathroom furniture from grandma. Thank you!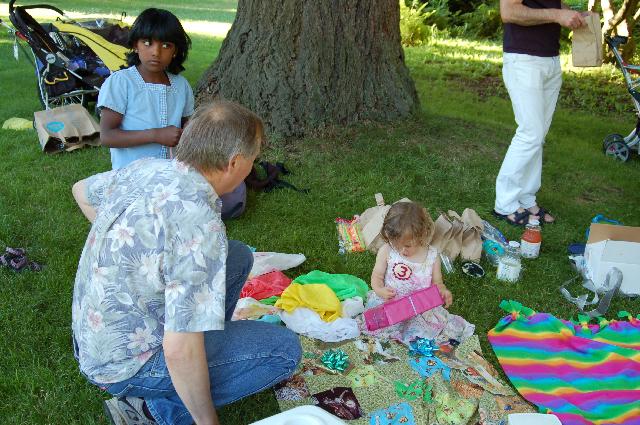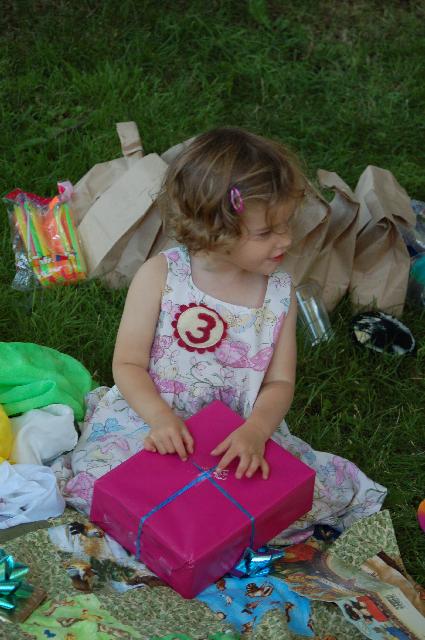 For a while things got pretty hectic because more people arrived: Katrin (with red purse) and her kids Toomas, Oliver and baby Agnes; Montserra, Thomas and their son Julian. Thank you for a set of wooden food groups and butterfly book! And real Spanish tortilla that Montserrat brought! It was sooo good!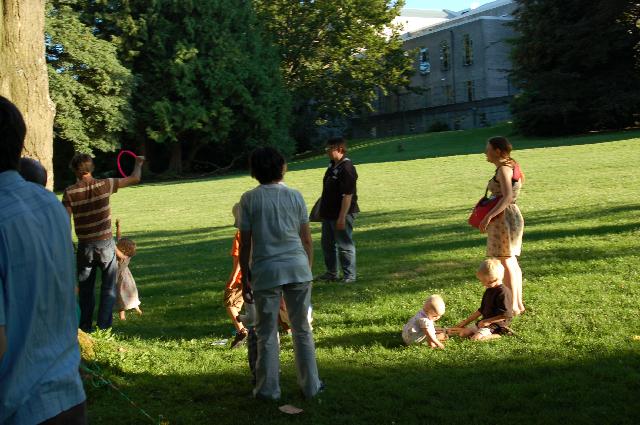 So when all the kids were getting crazy I brought out the cake. It took me three tries to light the candle but once it was lit everyone sand happy birthday song, including Liisa. This was definately the highlight of her day!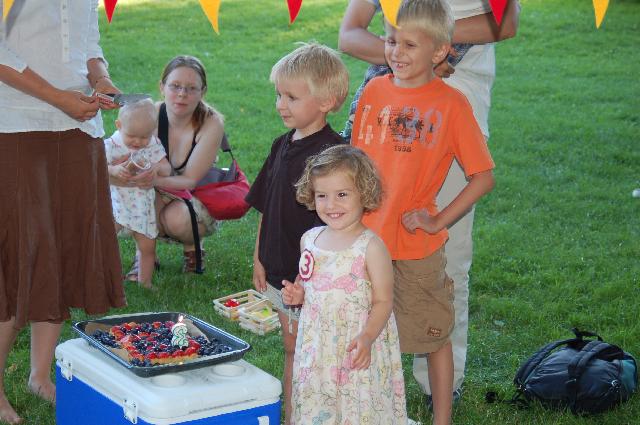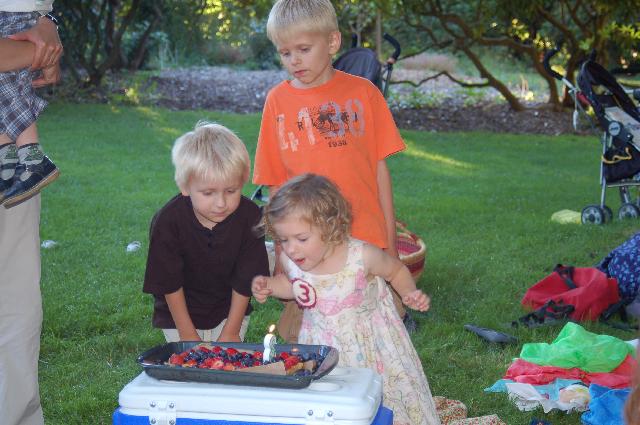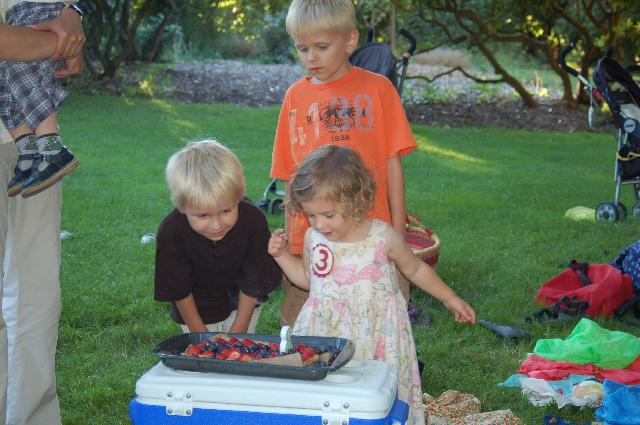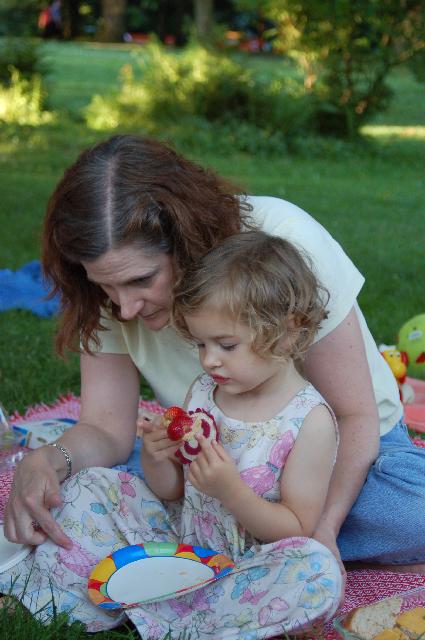 Liisa sat and ate in grandma's lap while I distributed the cake. It was simple shortcake type recipe bade with vegan margarine, topped with lots of blueberries and strawberries in number 3 shape and covered in jello.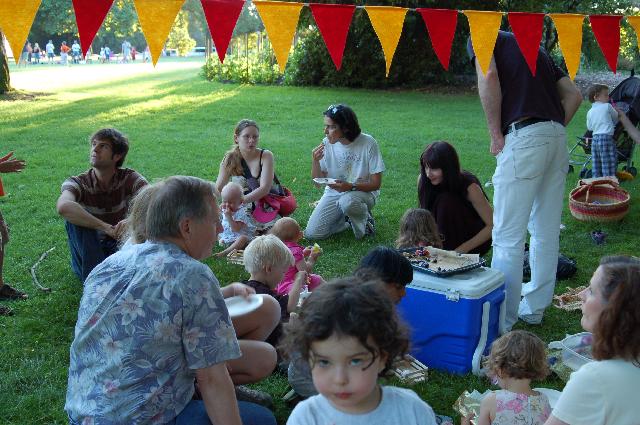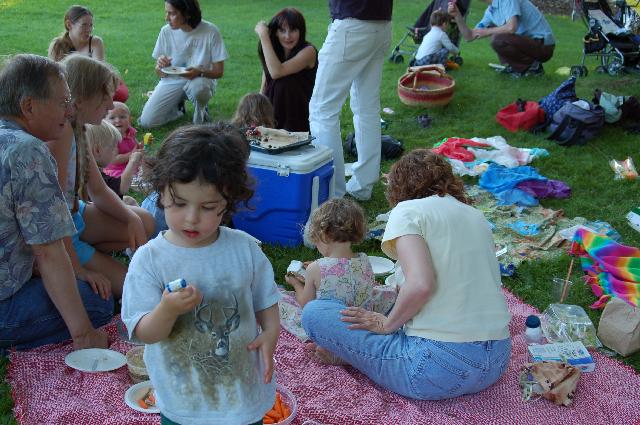 And then it was time for bubbles. David blew and most of the kids ran and tried to pop them. And some blew their own bubbles :)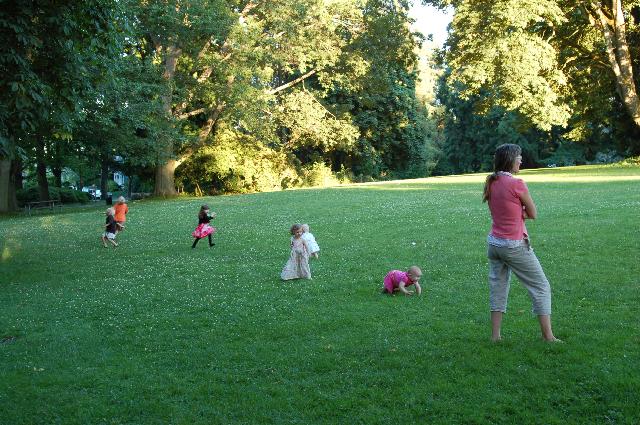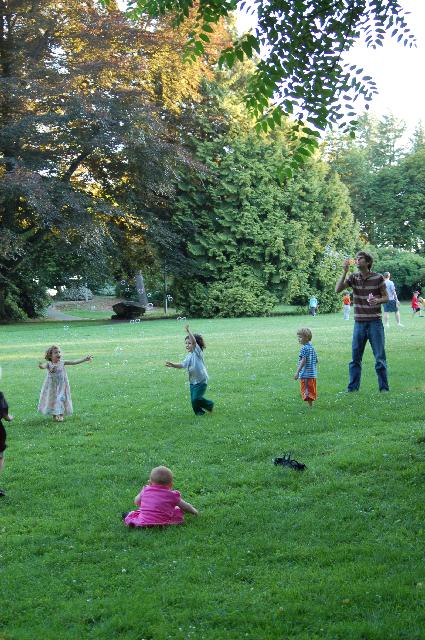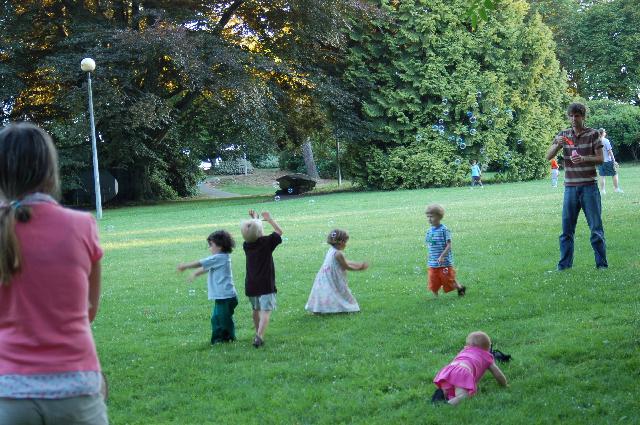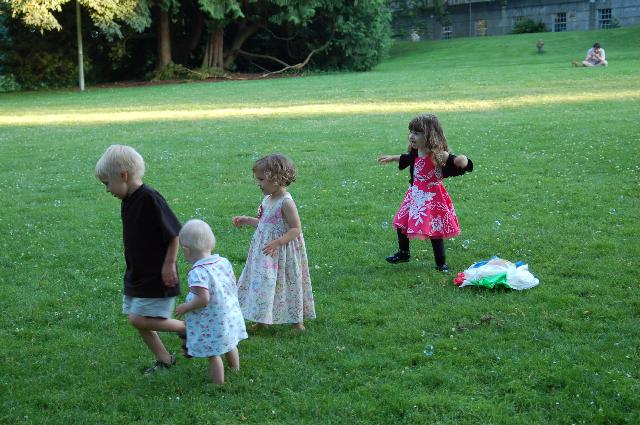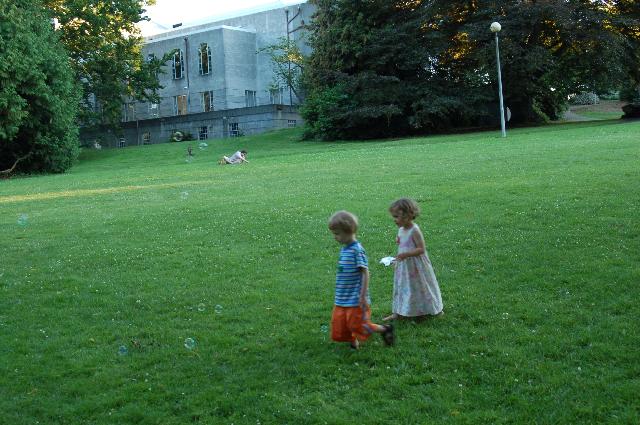 And after a while it started getting later and later and cooler and cooler and everyone went home. For quite a few days afterwards Liisa had to wear her birthday badge and we had to keep talking about it every evening that her birthday is past that tomorrow is not her birthday again.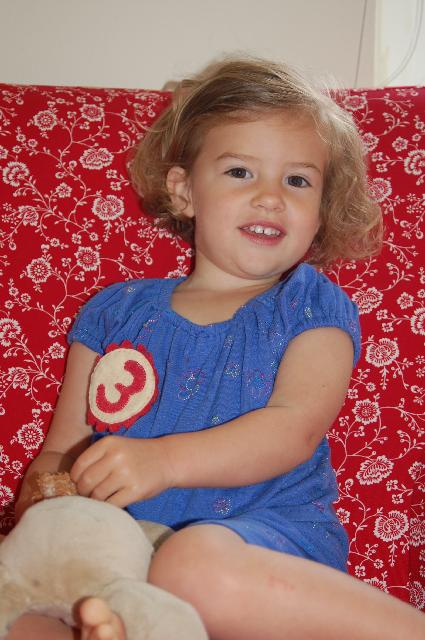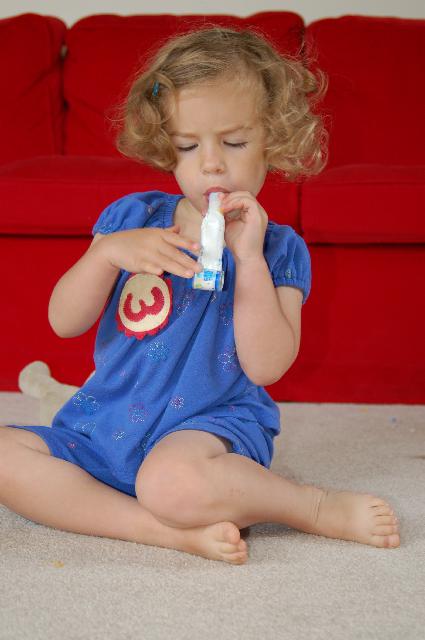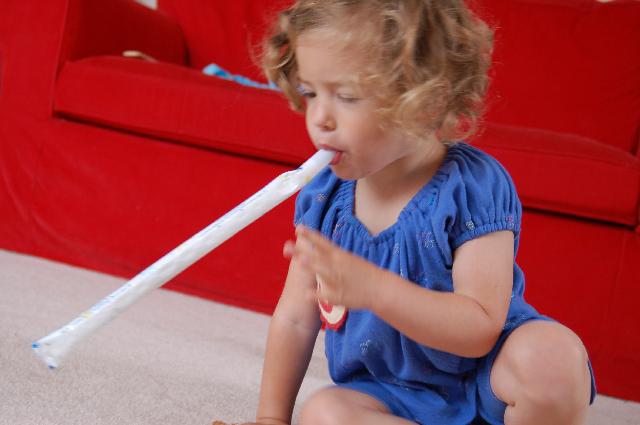 Per her request a couple pictures of her blowing the serpentine. She is wearing clothes I got in the birthday clothes swap.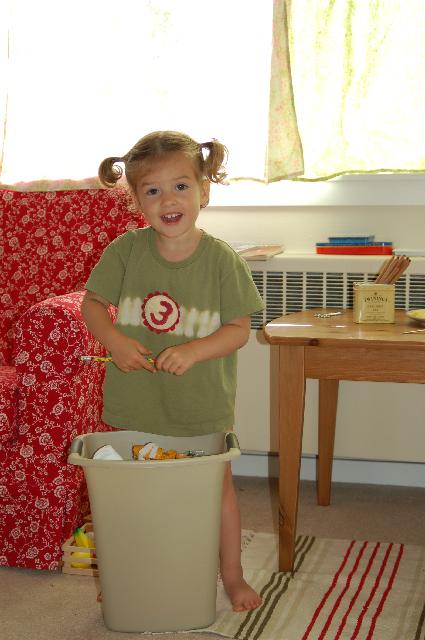 Sharpening pencils. Every new skill is so exciting. Sharpening pencils is one of those extra exciting ones. She doesn't use enough pencils to satisfy her sharpening need :)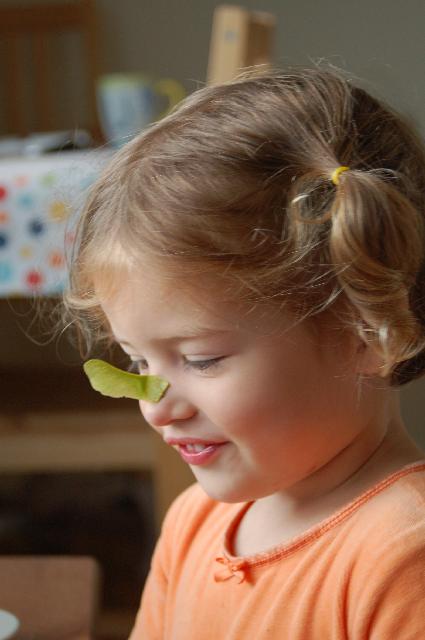 Another new skill is putting on maple seed noses. We do this very often and Liisa calls it doing a trick. It is interesting that David had never heard of sticking one onto himself. I did it often as a small child.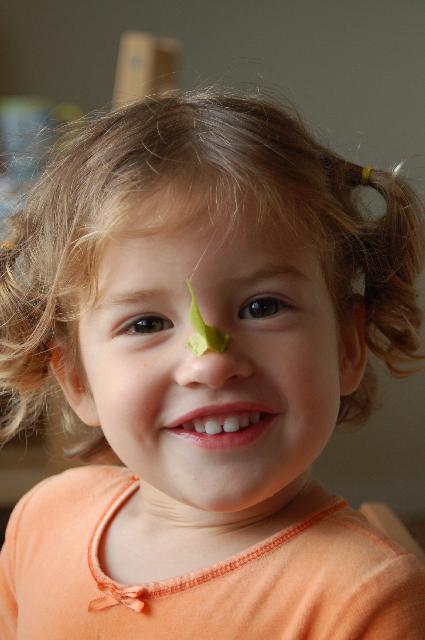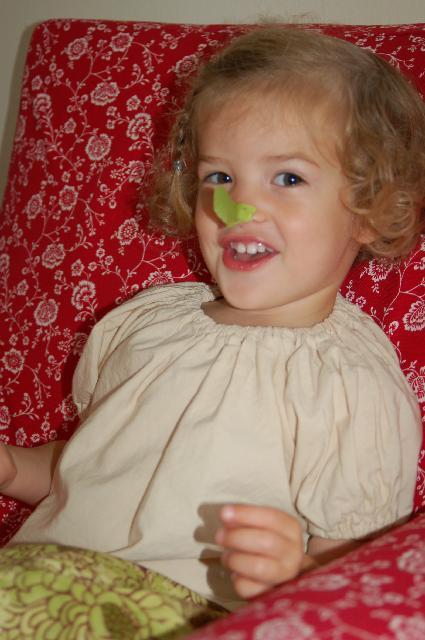 One day Liisa decided to make a cocoon out of paper. She taped two pieces together and I helped with the rest. Here is the resulting cocoon: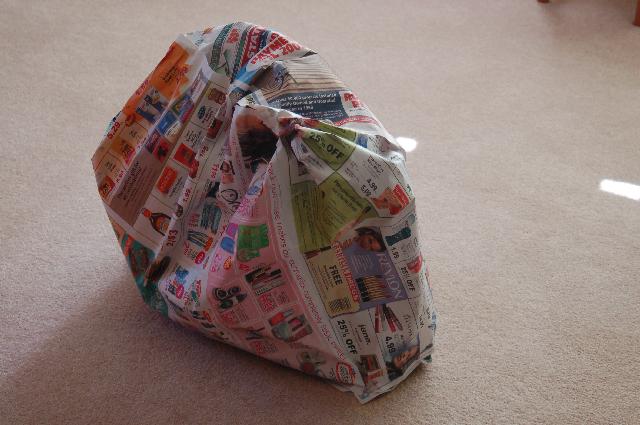 and Liisa's eye peeking out of the cocoon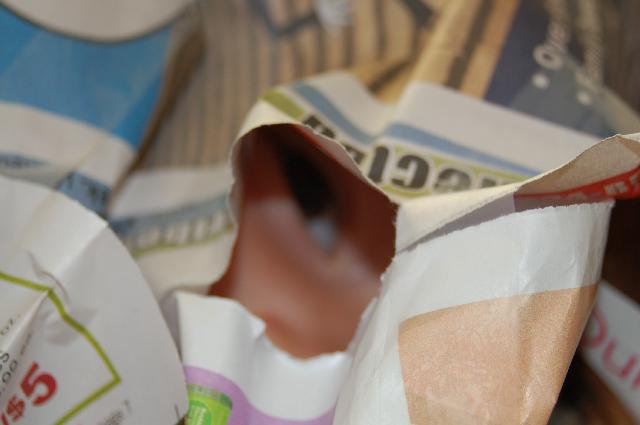 Mostly we make cocoons out of tulle though. Sometimes she needs little extra help with rolling: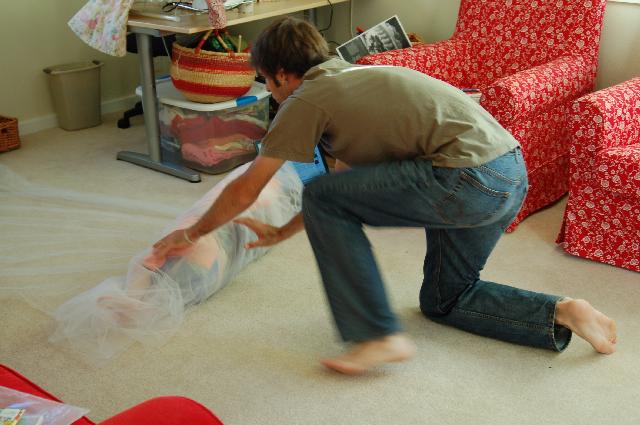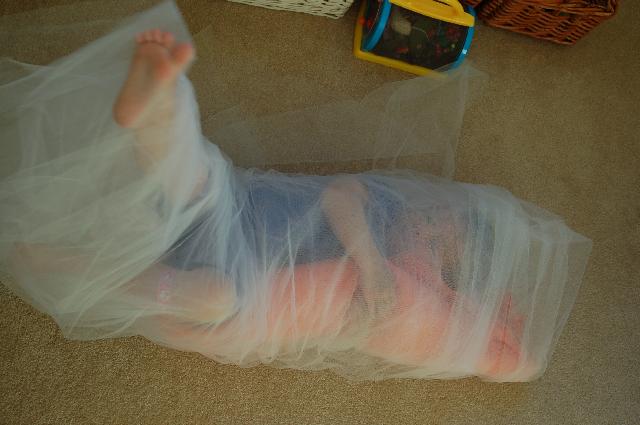 And a little out of place here are pictures of 4th of July. We went to the roof of our building and David's family joined us for the fireworks.